At this very moment, humans are building cities faster and larger than at any other time in the history of civilization. As rapid urbanization transforms societies and the planet, cities are uniquely positioned to serve as incubators and implementers of bold actions to mitigate climate change and its effects. If the next generation hopes to thrive in a changing planet, the world needs research, understanding, and fact-based action to address the challenges and opportunities presented by accelerating urbanization and population growth.
On March 4, nearly 800 Yalies gathered in New York City to hear from Yale scholars and professors working toward solutions for a more sustainable planet. Speakers posed challenging questions from their research in engineering, human health, architecture, conservation, and environmental science. Among them: How does Israel make salt water drinkable? Can coconuts help save the planet? How does art influence conservation?
The event was "Cities and Climate Solutions: Catalyzing Change for a Sustainable Future," part of the ongoing For Humanity Illuminated series. At Jazz at Lincoln Center, six featured speakers gave the audience a glimpse inside their work.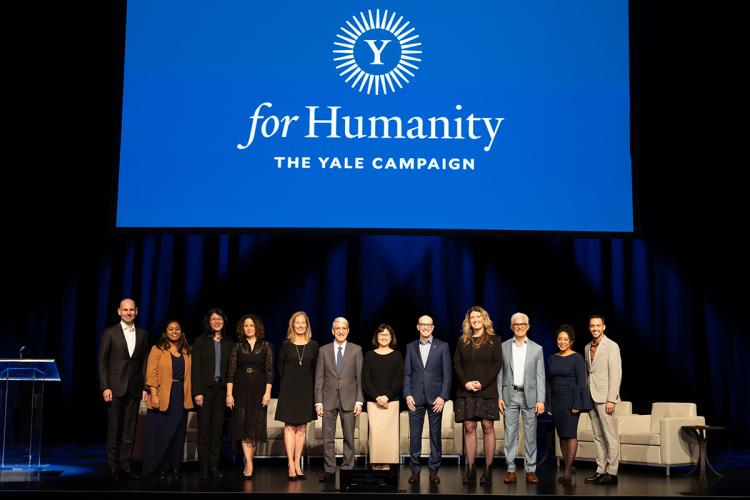 Speakers from the New York City event, from left: Josh Steiner '87, Mae-ling Lokko, Karen Seto, Isil Yildiz '04, Nancy Marx Better '84, Peter Salovey '86 PhD, Maya Lin '81, '86 MArch, Randy Nelson '85, Clara Pregitzer '20 PhD, Menachem Elimelech, Lauren Graham '13 MEM, and Daniel Carrión.
Sharing solutions
Karen Seto, the Frederick C. Hixon Professor of Geography and Urbanization Science, uses satellite remote sensing to forecast urban growth. Her projections suggest that an additional 2.5 billion people will live in cities by 2050—the equivalent of gaining a new city the size of Manhattan every seven days. Seto emphasized the great opportunity that lies in thoughtful design of tomorrow's cities.
Menachem Elimelech, Sterling Professor of Chemical and Environmental Engineering, is working to ensure clean drinking water for all, at scale. His lab has developed membrane technologies that can filter seawater and municipal wastewater and transform it into safe, drinkable water.
Yale School of Architecture assistant professor Mae-ling Lokko is rethinking the design and materials of our built environments. In particular, she explores how agricultural waste such as coconut husks could be used as building materials. More broadly, she investigates the ways in which new models of academic-industrial collaboration could activate more equitable systems for a lower carbon future.
As deputy director of conservation science at the Natural Areas Conservancy, Clara Pregitzer '20 PhD works to advance investment in urban nature—the parks, streams, and woodlands that enhance our cities. These natural habitats are important for city residents, for biodiversity, and for climate resilience, and Pregitzer shared her conviction that parks and nature should be treated as essential city infrastructure.
Daniel Carrión, assistant professor of epidemiology (environmental health), is focused on the intersection of climate, energy, and health equity. One track of his work studies extreme heat patterns in cities, noting that disadvantaged neighborhoods tend to be hotter, putting their residents at risk for more health complications.
Artist and environmentalist Maya Lin '81, '86 MArch spoke about some of her recent architectural projects that keep sustainability at the forefront, as well as her large-scale environmental art works that are intended to foster reconnection with nature.
After presenting their TED-style talks, the group then engaged in conversation moderated by Yale trustee Josh Steiner '87.
 
Yale president Peter Salovey '86 PhD took the stage and described some of the many initiatives that comprise Yale's Planetary Solutions Project, a broad, interdisciplinary effort to address climate change locally and globally.
"As we've seen this evening, multidisciplinary collaborations can take groundbreaking discoveries from the laboratory to the community, from the academy to public policy," noted Salovey. "This is where the research university plays an important role. Yale has the distinct ability to convene experts spanning disciplines and sectors. At the heart of these efforts is the For Humanity campaign, which pairs Yale's will and capacity with the support necessary to solve great, global challenges."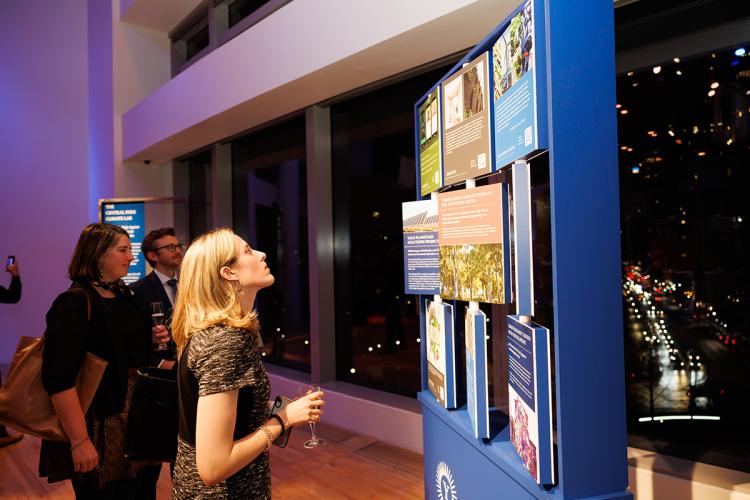 Guests learned more about Yale's climate work and the For Humanity campaign in an interactive engagement zone.
Coming to a city near you
For Humanity Illuminated brings Yalies together for inspiration and connection. The series travels next to Chicago, London, Washington, DC, and Boston.
"Yale is, indeed, a special place, and this is a special time for our community," remarked campaign co-chair Nancy Better '84. "This event series showcases the excellence of our students, faculty, and alumni across disciplines. Last fall, we experienced the power of storytelling in Los Angeles and explored new health paradigms in San Francisco. And tonight, we learned how Yale is contributing to solutions to climate change here in New York, back in New Haven, and around the world. The investments made possible through the For Humanity campaign ensure that our faculty and students have the resources they need to tackle these and other critical challenges facing humankind."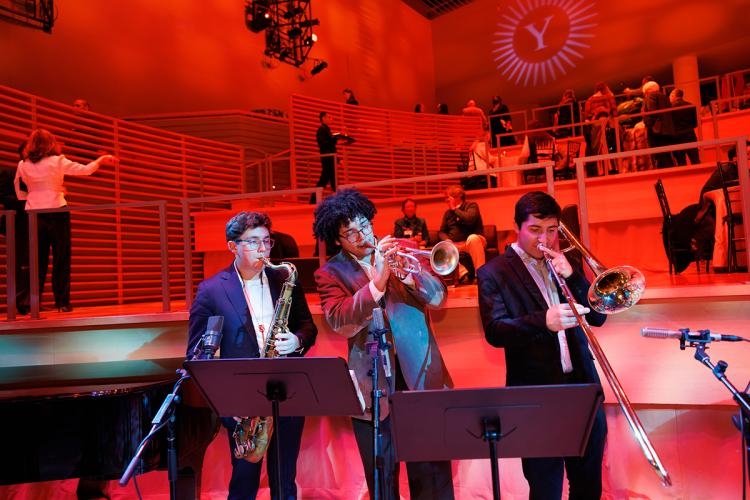 Members of the Yale Jazz Ensemble provided music for the reception.
Connection and engagement
Following the program, a lively reception featuring performers from the Yale Jazz Ensemble presented the opportunity for attendees to mingle and learn more about Yale's efforts in climate science through interactive exhibits and engaging conversation. Representatives from Yale Alumni Association clubs and affinity groups also helped to connect Yalies with groups and volunteer opportunities in the area.
Doreen Clark '92 MPPM described the evening as energizing: "I attended tonight for all the great things that happen at Yale events—thoughtful and thought-provoking presentations, collaborative ideas, and the chance to connect with others in the community."
"I was interested to hear what specific initiatives Yale has been investing in and learning how Yale is connecting its scholarly progress to on-the-ground impact," said Julie Kim '14.
In his closing remarks, campaign co-chair Randy Nelson '85, reminded attendees that every member of the Yale community plays a part in the university's work toward creating a better world.
"We can be confident about reaching Yale's ambitions for humanity when we marshal the complete resources of the institution, working across disciplines and boundaries—what President Salovey calls the power of the 'unified Yale.' The 'unified Yale' includes all of us," Nelson noted. "You have been and are essential to our collective impact."
The next event in the series will be held in Chicago on May 4, 2023, featuring speakers on the topic of artificial intelligence. Explore the For Humanity website to watch footage from previous live events, read progress updates, and learn more about upcoming activities.