Engaging young alumni with giving to Yale starts early—in fact, through Senior Roll Call, it starts before they are even alumni. The Yale College Alumni Fund program, which kicked off in December and runs through the spring semester, features on-campus events that aim to teach the senior class about the impact of alumni gifts to Yale.
Caitlin Lee '23, Silliman College, helps run Senior Roll Call and explains the value of demystifying philanthropy at Yale on a peer-to-peer basis.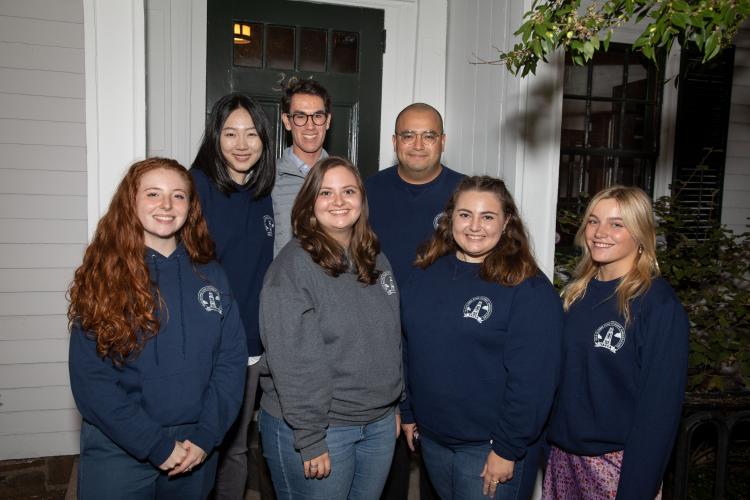 Caitlin Lee (back row, left) poses with other Yale Alumni Fund Student Ambassadors.
What is Senior Roll Call, and what does your role as vice president entail?
Senior Roll Call is an initiative started by the Yale Alumni Fund to spread awareness among the senior class about the Alumni Fund and help students remain connected to campus after graduation. As vice president, I work very closely with our president, Elisabeth Moore SY '23. We meet biweekly and plan events and strategies for how to keep engagement high.
Our job is to help seniors understand the impacts of gifts from alumni on their college experience before they become alumni themselves. Seniors "raise their hand" for the roll call by participating in events or making gifts to the Alumni Fund. We set up tables at high-traffic spots on campus, so students have a space to just come up to us and ask questions, and also have fun specialty events like our champagne toast to really incentivize people to stop by. Half the battle is just spreading awareness by meeting seniors where they are.
What are the biggest questions that seniors have about the Alumni Fund?
The biggest question is always about where their money goes when they give to the Alumni Fund. Students really appreciate hearing how much transparency there is in terms of designating money to go to specific designations. The fact that alumni can designate gifts to a specific area, whether that's financial aid, athletics, arts, sciences, or student support, makes the impact of giving feel much more real.
Right now, students are especially enthusiastic about giving to support first-generation and low-income students, as well as mental health resources at Yale College. The fact that their gifts can be used specifically for those programs is something students really appreciate hearing.
What's one of your favorite memories of your time as a Yale Alumni Fund Student Ambassador?
I got to attend a meeting of the Alumni Fund Board of Directors in New York City last fall, which was such an incredible experience. I got to hear Yale College Dean Pericles Lewis speak about his goals for the academic year and how Alumni Fund giving directly supports those goals.
It was such an incredible experience to connect with so many alumni who are so passionate about their time at Yale, whether it was five or fifty years ago. They all think so fondly of their time on campus, and it made me even more grateful to be here. I met someone who graduated forty years before I even came to Yale, but they could relate to the things I shared about why I love the university. It's amazing how Yale unites people across generations in the shared experiences and memories of their time here.
In your own words, what makes Yale such a special place?
When I first came to visit Yale during Bulldog Days as a senior in high school, what immediately struck me was the sense of community. There are lots of incredible universities with very talented individuals, but I got the impression that Yale had a unique campus culture, a closeness and collaboration over coldness and competition. Now that I've been here for four years, I can confidently say that I was right.
I had only spent one semester on campus before we went remote, but I was still able to keep up the relationships I'd made during my few short months on campus. Going to school remotely for that time made me even more thankful and appreciative of things that I might've taken for granted. We are still connected and are even closer now that we are all together in person. Keeping those relationships and staying connected to Yale after I graduate is such a priority for me, which is why I'm so grateful to already be involved with the Yale Alumni Fund.