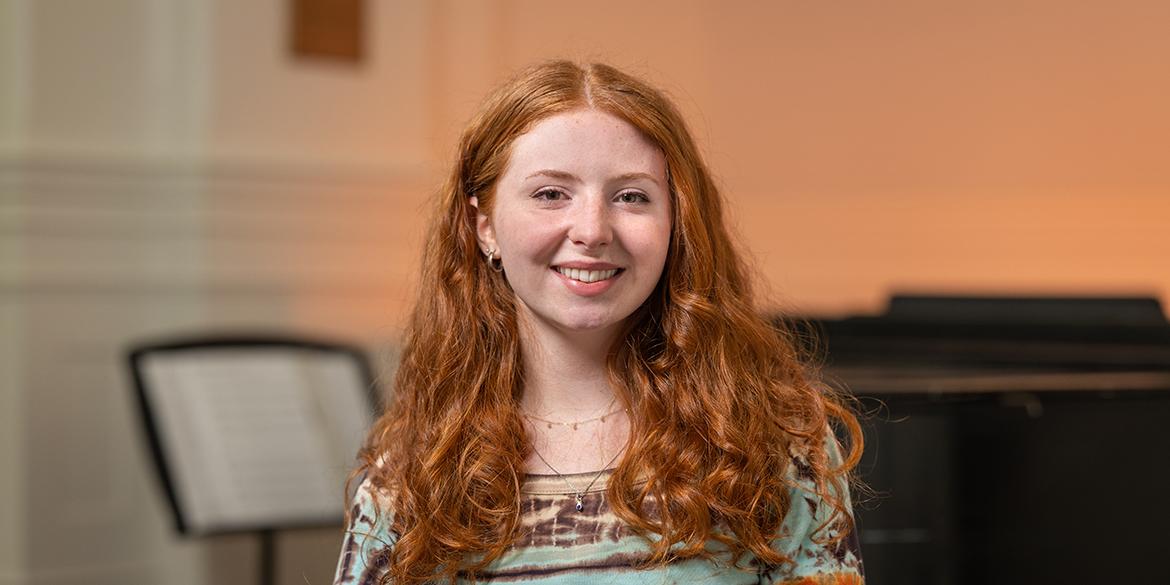 Elisabeth Moore '23, Saybrook College, has always loved music. Her childhood home was filled with the sounds of old choir records that her mother would play. After taking lessons in piano and violin, Elisabeth found her true passion in singing.
She joined her high school's choir, and when an a cappella group from Yale came to visit and perform with the group, Elisabeth was awestruck. She recalls being impressed by the students' varied academic passions and musical talent.
"I immediately felt like I could belong in a situation like this," Elisabeth says.
Elisabeth came to Yale expecting to major in music, but she ended up falling in love with Spanish literature and is pursuing a degree in Spanish and political science.
Still, she has found a way to fulfill her love of music through Yale extracurricular activities, like the Yale Glee Club and the Music in Schools Initiative, where she teaches voice lessons to New Haven Public School students.
"I teach some amazing, amazing kids," Elisabeth says. "I have all my lessons on Thursday afternoons, which means I'm very tired at the end of the week. But somehow when I finish them, I feel so rejuvenated."
Elisabeth incorporates her academic interests into the lessons she teaches, singing songs in Spanish with one student. Bringing together her love of music with her passion for Spanish is emblematic of what Elisabeth loves about Yale.
"What is exciting for me about Yale is the way I'm able to combine things I'm interested in," Elisabeth says. "Yale makes it easy to feel out the path before you decide on one thing, which I'm really grateful for."
She also checks in with her students about more than just music, sharing about the day-to-day of her life as a Yale student and empathizing about the stresses of middle school.
"I think back a lot to when I was in seventh grade and how chaotic it felt," Elisabeth says. "For me, what's most important is treating them as I would have wanted myself to be treated when I was in seventh grade."