Eli Days, a multi-day event presented by the Yale Alumni Fund, brought hundreds of students together to reflect on what they love about Yale and learn more about how to remain connected after graduation.
Held throughout the first week of May, Eli Days included a field day, silent disco, senior day, and appearances from Handsome Dan and Heidi, the Yale Public Safety service dog.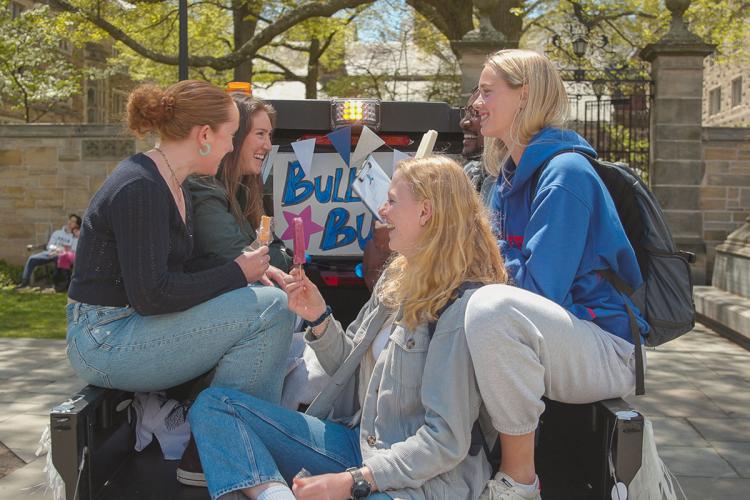 Students enjoy popsicles while riding on the "Bulldog Bus."
"It's like our Superbowl," said Eleanor Schoenbrun BF '25, the stewardship chair and campus liaison for Yale Alumni Fund Student Ambassadors, also known as YAFSA. "It's the culmination of all of our work to help students learn about the Alumni Fund and how they can make a difference for Yale students once they become alumni."
For Schoenbrun, the events provide an opportunity for conversations with students about what their relationship with Yale will look like after graduation.
"While we're all having fun listening to music, enjoying the sunshine, playing games and petting Heidi and Handsome Dan, we're also having conversations about giving to Yale," Schoenbrun said. "Students have a lot of questions about where Alumni Fund money goes and how to support areas like mental health resources or their residential colleges."
Expressing Gratitude
Over the course of the week, more than 200 students wrote thank-you notes on post cards to share with Alumni Fund donors.
"A lot of students wrote about parts of their Yale experience that donors have supported, like research opportunities, study abroad, and making campus more accessible," Jing Lin DC '25 said. "I love the festiveness and the feeling of gratitude."
Students received Handsome Dan tote bags for writing thank-you notes to Alumni Fund supporters. (Photo Credit: Dan Renzetti)
Building Relationships
As students rode around on the "Bulldog Bus," enjoyed popsicles and candy bars, and answered trivia questions to win YAFSA-themed playing cards, they learned about how the Yale Alumni Fund supports different aspects of their Yale experience.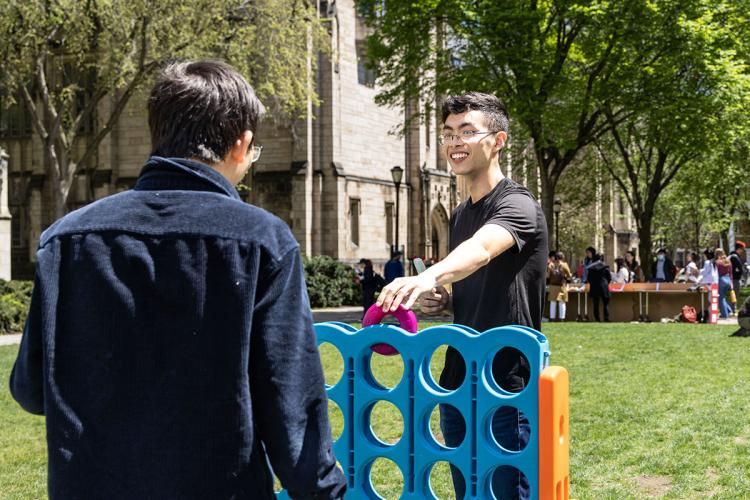 Lawn games gave students the opportunity to win treats and Yale swag by answering trivia questions.
Above all, Elisabeth Moore SY '23 said, Eli Days events are about building connections with soon-to-be grads.
"While it's great when we can encourage seniors to make their first gift, many students aren't yet in a place where they have money to give, but they still want to connect with the Alumni Fund," Moore said. "It's about making a commitment to pay it forward once we're in a financial place to do so. The donation aspect is a great way to get fun swag, but it's more important to build relationships with graduating seniors and help them understand what the Alumni Fund supports."