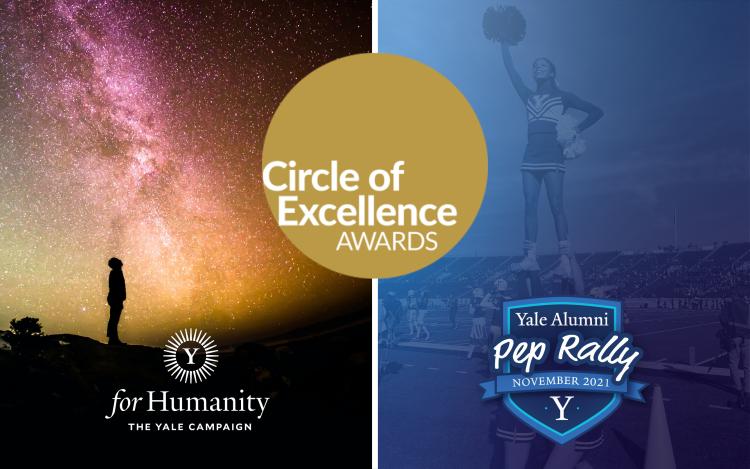 Good news came in threes last week for Yale Alumni Affairs and Development, with the Development Office and the Yale Alumni Association combining to take home a trio of awards from the Council for Advancement and Support of Education (CASE), the professional network for educational advancement professionals.
Each year, CASE recognizes outstanding work within the field by organizing the Circle of Excellence Awards. For 2022, the For Humanity campaign was recognized with the grand gold award for its campaign case statement and with a bronze award for the campaign website, both of which were created to launch Yale's comprehensive campaign in October 2021. The YAA took home a silver award for the 2021 YAA Pep Rally, an innovative hybrid program designed to energize and unite Yalies everywhere for the Yale-Harvard game through in-person and virtual platforms
"This is a transformational time at Yale, and these awards represent the great work being done across Alumni Affairs and Development in engagement and fundraising," said Joan O'Neill, Yale's vice president for alumni affairs and development. "So many individuals contributed their time and talent to these efforts on behalf of the Yale community, and it is wonderful to see them honored. They truly represent 'best in class' for our field and reinforce what we know so well—that we have an amazing team!"
The For Humanity case statement was awarded for the category, "Fundraising Case Statements & General Cultivation Publications;" the For Humanity website for "Marketing Micro-sites (Fundraising)"; and the YAA Pep Rally for "Alumni Relations Initiatives."
This is the second consecutive year the YAA was honored. In 2021, the association received a gold award for its use of Instagram stickers and story effects to increase engagement, and a bronze award for its Yale Alumni LIVE program.
"We are thrilled to see Alumni Affairs and Development so well-represented with this year's CASE Circle of Excellence Awards," said YAA Executive Director Weili Cheng '77, "and I'm incredibly proud to have the YAA recognized for a second consecutive year. The YAA Pep Rally was a cross-functional effort that spanned our Communications, Regional Clubs, and Yale College Class groups to engage more than 40,000 alumni and is a testament to the ingenuity and wonderful work of all involved."