Before arriving on campus, Dino Fusco '88 didn't think he fit the mold of what a Yale student was supposed to be. The son of Italian immigrants, he worked in his father's tailor shop near Hartford, Connecticut, after school and on weekends from the time he was ten years old. "We were a bit strange for our town," Dino recalls. "My parents spoke with an accent. We made our own wine and ate food that was different from what other families ate."
When he was admitted to Yale, Dino promised his parents that he would continue working in the shop three days a week throughout college to help ease the financial burden of his tuition. "When I got to Yale, there was a book with photos of all the first-year students," says Dino. "At the very back was a summary of the 1,325 members of my class. It included data like we represent forty-eight states and twenty-seven countries. We speak thirty-seven languages. We have fifty-five high school class presidents, and so on. Going down the list, I read at the very bottom, 'We have one tailor.' I was stunned. It was one of the first times in my life I felt included. I learned to celebrate my background at Yale."
Two years later, soon after Anita '90 arrived at Yale, she and Dino met at an ice cream social in Jonathan Edwards College. Now, whenever they're back on campus, they enjoy pointing out the site of their first date to their daughters, Sofie '24 and Emma '26.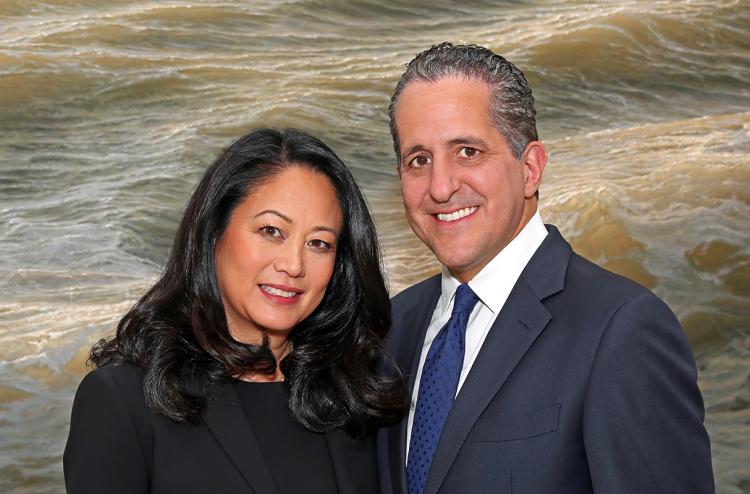 Anita Pamintuan Fusco '90 and Dino Fusco '88
"I am filled with joy when I'm on campus and see our daughters experiencing everything that I missed out on because I was working in my father's tailor shop three days a week," says Dino. Their conviction that all students should have the chance to make the most of their time at Yale, no matter their background or financial circumstance, is why Dino and Anita volunteer. They have both served on their respective reunion gift committees. Recently, they've also become dedicated volunteers for the For Humanity campaign.
Anita, a longstanding member of the board of advisors for the David Geffen School of Drama, has joined the Campaign Committee to help with fundraising and engagement strategies for Yale's theater and arts programming. For Anita, the chance to see plays and performances was a highlight of her undergraduate years. She still has the program from the 1987 Yale Rep production of The Piano Lesson starring Samuel L. Jackson. She is particularly excited about the school's planned new drama facility. "The new building will enrich both the Yale and New Haven communities by offering more outstanding productions in theaters with the latest technology," she says.
Dino is also an active campaign volunteer, specifically helping to engage the New York real estate sector and spread the word about the For Humanity campaign's goals and priorities, including increased affordability for students.
"During our time at Yale and since, we have seen the tremendous opportunities available to students through Yale's unparalleled academics and the breadth of extracurricular activities," says Anita. "As alumni, we consider it a gift to be able to help expand access to these opportunities today and in the future."