Despite numerous invitations, revered composer Jean Sibelius made only one trip to the United States in his lifetime. His visit in the summer of 1914 included lavish dinners at Delmonico's, rehearsals at Carnegie Hall, and a tour of the New England Conservatory in Boston. But for the Finnish master, the main draw lay in the foothills of the Berkshires.
For over a century, Norfolk, Connecticut has been home to one of the country's most prestigious chamber music festivals. The tradition grew from the patronage of Ellen Battell Stoeckel and her husband, Carl Stoeckel, whose father was Yale's first professor of music. The Stoeckels regularly hosted chamber music and choral concerts in the library of their home, and in 1906, they built a dedicated performance hall to accommodate a growing audience. Lined with planks of California redwood for superior acoustics, the venue was christened the Music Shed. After his month-long stay, Sibelius called it "the most inspired setting for the appearance of an artist."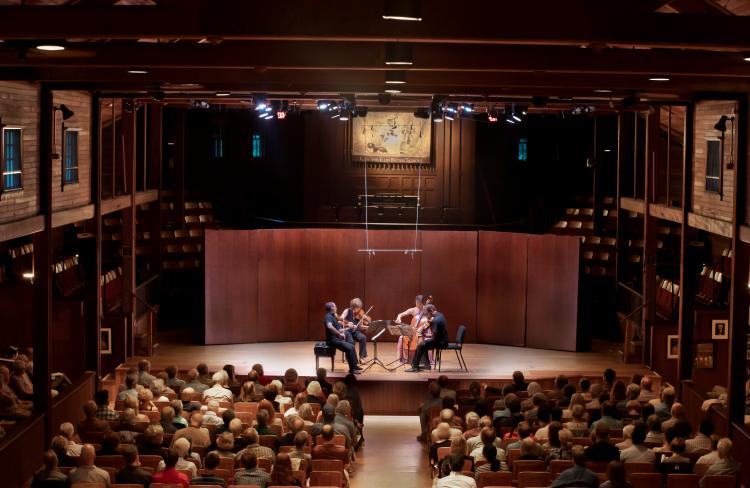 The award-winning Brentano String Quartet plays for a full house at the Music Shed.
A Celebrated Legacy
When Ellen Battell Stoeckel died in 1939, her will provided for the creation of a trust to establish a summer school of music on the estate with programs in art and literature under the auspices of Yale University.
Now entering its seventy-eighth season, the Yale Summer School of Music/Norfolk Chamber Music Festival advances a dual teaching-performance mission. Every summer, world-class musicians and chamber ensembles follow in the footsteps of Sibelius, Sergei Rachmaninoff, William Grant Still, Percy Grainger, Edward Elgar, Maud Powell, and many others to perform a series of concerts at the Music Shed. Festival musicians also join resident faculty to serve as teachers and mentors to thirty-eight Norfolk Fellows—approximately a third of whom are students at Yale School of Music—who spend six weeks on the estate studying, practicing, and performing in the festival's line-up.
This September marked the beginning of a new chapter at Norfolk. With support from the Ellen Battell Stoeckel Trust, Yale School of Music, and a group of generous donors and patrons, Yale began a major $10 million renovation of three of the estate's buildings dedicated to music. The project follows exterior and structural work completed on the Music Shed in 2016 and represents a significant step toward offering flexible, year-round facilities for expanded programming and educational opportunities.
"For Ellen Battell Stoeckel, music and beauty helped sustain humanity and civility," says Robert Blocker, the Henry and Lucy Moses Dean of Music. "This project, along with those that have come before and others that are now being imagined, is a living realization of her intentions for the physical facilities of the estate and the enrichment of lives through performances and programs."
Enhancing a Tradition
In time for next summer, the Music Shed Annex, a 1970s-era addition located at the north end of the building, will be torn down and replaced with a larger complex featuring eleven rehearsal spaces and practice studios. "The Music Shed is a world-class concert hall, and now it will be complemented by world-class rehearsal facilities," says Melvin Chen '91, deputy dean of the School of Music and the festival's director.
The plans also include a remodeled green room space for performers, upgraded recording capabilities, new restrooms for concertgoers, and the installation of an air-cooling system in the Shed. Additionally, Eldridge Barn, a building previously used by brass groups for rehearsals, will be restored and converted to living quarters for Norfolk Fellows.
"All of these improvements are worthy of the festival's distinguished history and will enhance the possibilities for making music at Norfolk. Above all, they will ensure that we continue to attract the most talented artists and students in the world to carry on its tradition of excellence," says Chen.