As sea levels rise, weather patterns grow increasingly unpredictable, and record-breaking heatwaves and floods affect food security and migration across the globe, research shows that developing countries in the Global South are bearing the brunt of the climate crisis—even while their greenhouse gas emissions are, and historically have been, far lower than those of developed countries in the Global North.
Last year, a major gift from the Three Cairns Group helped launch a new program at the Yale School of the Environment (YSE). The Three Cairns Climate Program for the Global South expands access to advanced environmental education at Yale for students and professionals from this part of the world who are committed to combatting climate change in their home countries.
The Three Cairns Group is a mission-driven investment and philanthropic firm co-founded by Lise Strickler '82 and her husband, Mark Gallogly. The firm works to build and support innovative organizations, platforms, and initiatives to accelerate climate action. Their contribution is the largest gift ever to focus entirely on the Yale School of the Environment.
"The climate crisis is accelerating and requires urgent attention. While this crisis will affect everyone, it will not impact everyone equally," says Strickler. "In many instances, the people who are least responsible for the climate crisis are experiencing its worst effects. Our intention with this gift is to support climate leaders from the Global South to access the education and training necessary to combat the effects of climate change and implement solutions in their home countries. We have no doubt that their expertise and leadership will also reverberate far beyond the Global South and benefit the global climate community as a whole."
Lise Strickler '82 and Mark Gallogly
Reducing Barriers
A cornerstone of the program is the Three Cairns Scholars, which allows YSE to meet 100 percent of the demonstrated tuition needs and provide robust non-tuition support for qualified master's students from the Global South during their time at YSE. Upon graduation, these students are eligible for stipends to help facilitate their return to their home countries and regions to engage in environmental work. Applications for Three Cairns Scholars opened this past September, and the inaugural cohort will arrive on campus in the fall of 2023. Already, YSE has seen a dramatic increase in applicants from the Global South.
The program also established the Three Cairns Fellows, a scholarship opportunity for mid-career environmental professionals in the Global South seeking to enroll in YSE's highly regarded, application-based online certificate programs. In 2022, twenty-one inaugural Three Cairns Fellows joined other professionals in one of two courses: Financing and Deploying Clean Energy, run by the Center for Business and Environment at Yale, and Tropical Forest Landscapes: Conservation, Restoration and Sustainable Use, run by the Environmental Leadership & Training Initiative. Both certificate programs are designed to maximize tangible, immediate impacts; participants report that they are often able to apply what they learn in a morning session to their professional work that same day.
The gift also funds new certificate programs pertaining to environmental issues that affect the Global South. Additional certificate programs are currently under development and are expected to roll out later this year.
Funding the Future
"The Yale School of the Environment is an ideal partner for The Three Cairns Climate Program for the Global South. Under the outstanding leadership of Indy Burke, we are confident that this program will benefit climate leaders from the Global South in the immediate future and for years to come," Gallogly says.
Burke, the Carl W. Knobloch, Jr. Dean of the Yale School of the Environment, recognizes that the Three Cairns Program's impact on the YSE will be equally transformative, introducing new opportunities to all students as the program develops further and benefiting the school as an educational and research institution.
"We are already seeing reverberating positive impacts across YSE due to the establishment of the Three Cairns Climate Program for the Global South, from an increase in applications from prospective students committed to advancing climate solutions globally to the accelerated development of new online programs for mid-career environmental professionals," she says. "We are very grateful for the opportunity to partner with the Three Cairns Group in this remarkable endeavor that will not only enable us to provide critical support to the next generation of climate leaders, but also bring myriad new perspectives, ideas, and expertise to our YSE and Yale communities."
Keep reading to learn more about the inaugural Three Cairns fellows.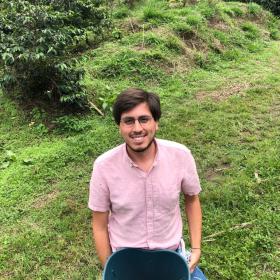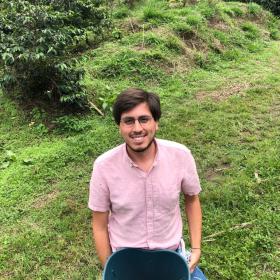 Andrés Melendro
Financing Forest Restoration through Carbon Markets
Country: Mexico
Organization: Revalue Nature
Working with governments in developing countries on forestry-related initiatives Andrés Melendro conducts risk analysis and due diligence on the social, financial, and ecological feasibility of conservation and restoration projects. The Tropical Forest Landscapes online certificate program has helped him further understand the complexities involved in financing forestry initiatives through carbon markets, serving as a valuable tool for linking international climate policy with landscapes and livelihoods on the ground level.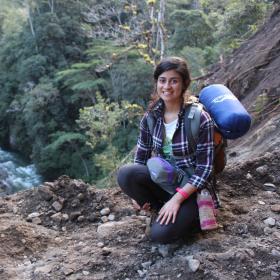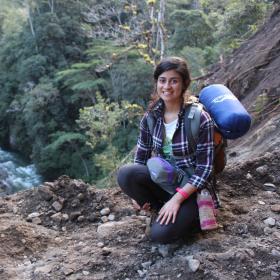 Stefanía Sibille Grández
A Low Carbon Future for the Amazon
Country: Peru
Organization: International Climate Initiative
As a member of the International Climate Initiative's DecarBOOST knowledge management team in South America, Stefanía Sibille Grández informs local population, governments, and businesses on regional decarbonization trends and opportunities in one of the world's most critical ecosystems, the Amazon. Working in Argentina, Brazil, and her native Peru, she has supported more than fifteen environmental projects, facilitating agreements on sustainable investment between governments, local organizations, and banks and public financial institutions. She also supports private companies from multiple industries in calculating their carbon footprint.
Sibille Grández enrolled in the Tropical Forest Landscapes online certificate program to gain a more holistic understanding of the ecological, social, political, and financial aspects of the conservation and restoration initiatives with which she engages.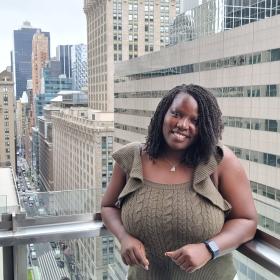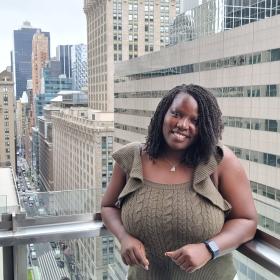 Linda Ogallo
A New Perspective on Climate Adaption Efforts
Country: Kenya
Organization: IGAD Climate Prediction and Application Centre
After working for almost a decade on building climate resilience in eleven countries across the Horn of Africa, Linda Ogallo says she needed a new perspective on climate adaptation strategies.
The Financing and Deploying Clean Energy program is helping her initiate discussions at various government levels on creative financing mechanisms and community-level energy access. Adaptation challenges, she notes, are linked to poverty, and poverty is inextricable from energy access. "Before the course, I was looking for a program that offered innovative approaches to climate financing, but Yale offered so much more," she says. "I have gained a language to articulate the role of clean energy not just in mitigating climate change but, critically for Africa, in strengthening the adaptive capacity of vulnerable communities."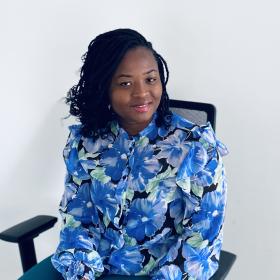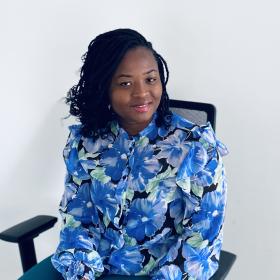 Fally Titikpina
Moving Toward Clean Energy Security in Sub-Saharan Africa
Country: France
Organization: Bouyer Leroux
Fally Titikpina, a native of the Togolese Republic, has worked for the past nine years as an energy project manager and energy data analyst in Africa and France with a focus on clean energy transition.
She enrolled in the Financing and Deploying Clean Energy online certificate program to deepen her understanding of available clean energy technologies and gain insight on the levers of policy and finance that might be most productive. And she has put this information right back to work: "What really matters to me is to create hope for sub-Sahara African communities. The sustainable energy transition presents several opportunities as energy is an ideal tool to empower people."