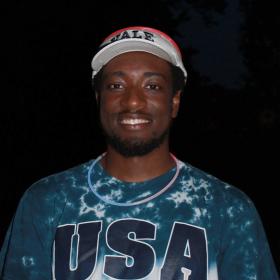 Darnell Battle JE '21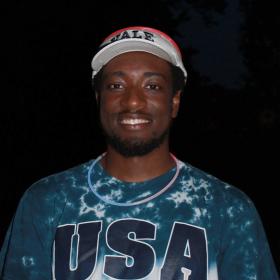 Darnell Battle JE '21
"Over the course of just a few weeks, First-Year Scholars at Yale (FSY) gave me access to tools and to people who shaped my entire Yale experience," recalls Darnell Battle JE '21.
Attending the FSY program, Battle felt at home at Yale, excited and ready to take on his first semester. Now a rising senior, he has returned to the program multiple times as a counselor. "The admissions office doesn't make mistakes," he laughs. "This is a message I like to pass on when I am helping younger students succeed."
Since 2013, FSY has helped students from under-resourced high schools navigate the transition to Yale, providing an environment that encourages learning and connection with others from similar circumstances.
Instilling confidence
With a gift from the Shelby Cullom Davis Charitable Fund, Andrew Davis and Kathryn Davis P '19 have established the Davis Family Access Fund at Yale to support FSY. Invested in Yale's endowment, the fund will help secure the future of the program and enable its continued growth.
Increasing access and opportunity for students is a commitment that extends throughout the Davis family tree, evident in the work of the Davis United World College Scholars Program and DavisConnects at Colby College. For the Davises, who bring a wealth of experience to these critical efforts in higher education, the FSY program stood out.
"We are committed to helping students succeed, and we are happy to support FSY," remarks Andrew Davis. "The academic and social enrichment, mentorship, and peer support that participants receive make a significant difference. This program instills within them the confidence they need to believe that they can do anything at Yale—and beyond."
"FSY participants come to Yale with unlimited potential," says Marvin Chun, dean of Yale College. "It is a joy to watch them thrive, knowing they're supported by a community dedicated to seeing them succeed. I am grateful to Kathryn and Andrew Davis for recognizing the role that FSY plays in the lives of our students and investing in its future."
Building community
Yale's undergraduate student body is more diverse than ever. Increased enrollment of first-generation, low-income students and other historically underrepresented groups has enhanced the campus in countless ways. Many of these students point to their participation in FSY as integral to their Yale experience, reporting marked improvements in self-perception, readiness, and overall academic performance upon concluding the program.
Since its first cohort of thirty-three students, FSY has grown to enroll more participants and to expand its offerings. The program now engages seventy-two students in six weeks of learning and living experiences that help them acclimate to life at Yale. They form close relationships with their classmates and counselors, earn credit for writing and quantitative-reasoning coursework, meet with faculty and academic advisors, and engage with Yale's vast array of tools and resources.
"FSY has been one of the best experiences of my life," says Battle. "The program creates some of the strongest and most formative friendships students can make at Yale. It's why I signed up to be a counselor again and again."
Overcoming obstacles
Although COVID-19 upended plans to welcome this year's FSY cohort to campus, the program has moved online, maintaining much of what makes it an effective experience for new students. Battle and his fellow counselors have conceived of creative ways to keep the community spirit strong. In addition to online courses, this summer's offerings include virtual activities like Karaoke Night and the FSY Olympics.
"It will be different this time, but we're determined to ensure that students have the same opportunities we had and to feel excited about their future at Yale," adds Battle.