Until the 1960s, "neuroscience" was a term unfamiliar to most. Now, the field is at the center of a science revolution, revealing remarkable truths about the human brain and nervous system.
Yale's Sterling Fellows heard about some of these insights during their annual gathering in 2019, when faculty members shared their findings at a panel titled "The Neuroscience of Happiness." In the audience that day were John Lykouretzos '95 and Joella Lykouretzos, and they were fascinated by what they learned about the biological mechanisms of emotions. They have since turned their interest into an investment in one of Yale's central priorities for neuroscience: support for graduate students and postdoctoral scholars.
Gathering momentum
"Breakthroughs at Yale depend on the strength of our diverse research community," notes Michael Crair, the vice provost for research and William Ziegler III Professor in the Department of Neuroscience. "Our graduate students and postdocs are pivotal to advancing neuroscience research by acting as a bridge across disciplines, and I am delighted that John and Joella have endowed a distinguished fellowship fund that recognizes these individuals and their contributions."
The Lykouretzos Distinguished Scholars Fund will award fellowships to select graduate students and postdoctoral scholars who exhibit an extraordinary level of talent and promise in the field of neuroscience. They will be known as the Lykouretzos Distinguished Scholars, a distinct honor that will serve as a point of pride throughout their professional lives. Recipients will be chosen by a committee, with preference given to those focusing their research on the interactions among the brain, body, and external world. The fellowships will also help cover conference travel, supplies, and other related expenses, enabling the Lykouretzos Distinguished Scholars to build the research experience and networks they need to take creative risks and pursue their biggest and boldest ideas at Yale.
"Joella and I invest in people," shares John Lykouretzos. "We are proud this fellowship fund will make a significant difference for promising scientists on the cusp of their careers. With the launch of the Wu Tsai Institute and other major developments on campus, Yale is gathering significant momentum and making discoveries that will benefit mankind. We believe now is the right time to support the scholars who will shape the future of neuroscience."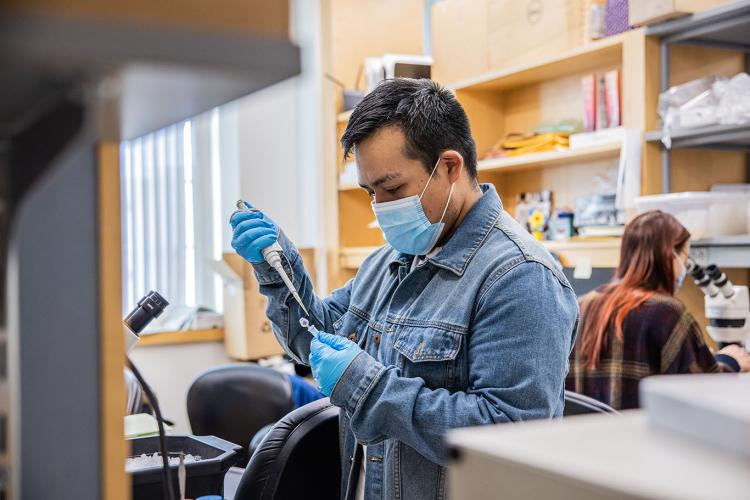 New possibilities
Although an indispensable part of research at Yale, graduate students and postdocs are funded by a patchwork of university sources, training and research grants, and fellowships that vary drastically from year to year. This unpredictable funding can affect an investigator's laboratory size, the scope of research undertaken, and the feasibility of tackling truly innovative ideas. In addition, most grants and fellowships are restricted to a particular department or research group. The Lykouretzos Fund, in contrast, will provide a steady source of support for graduate students and postdocs working in any subset of neuroscience and the myriad areas with which it may intersect.
This type of funding promises to accelerate discovery across the sciences at Yale, while creating a robust working environment that helps retain and attract top talent at every level. For a field as fluid and dynamic as neuroscience, it is essential. The Lykouretzos Distinguished Scholars will have the freedom to pursue their work wherever it takes them and create new avenues of inquiry along the way.
"Neuroscience sits at the interface of many disciplines," adds Crair. "By bringing together these disciplines, we can address important questions about humanity and human behavior. This type of funding that allows researchers to focus on those 'in-between' spaces, as scholars are just launching their independent careers, can be transformative. The Lykouretzos Distinguished Scholars will be a key part of our ongoing efforts to advance the study of the brain at Yale."