Like many great stories, this one starts on the road. Heather Gerken, then the newly appointed dean of Yale Law School (YLS), set out in 2018 to learn more about the impact YLS alumni were having in boardrooms, classrooms, and courtrooms across the country.
But what about those who pursued nontraditional careers after law school—the ones who went on to become public servants, environmentalists, and inventors? What insights could they impart for the new dean as she began reimagining how YLS could prepare the next generation of leaders following in their footsteps?
Dean Gerken met with more than 3,000 alumni who shared their stories of assisting asylum-seekers at the border, launching cyber- security firms, directing anti-poverty organizations, and countless other community-minded ventures.
"There was a striking through-line in all of my conversations with alumni, regardless of industry, background, or generation," reflects Gerken. "Everyone celebrated our record of training broad-gauged thinkers and thoughtful leaders while recognizing that this was a moment to look to the future. Everyone understood we needed to change in order for Yale Law School to continue its best traditions."
Back on campus, faculty members and students contributed their ideas in equal measure, painting a fuller picture of where YLS was—and where it needed to go next.
Nurturing Today's Talent
From these conversations emerged a bold vision for the school's curriculum. And in November 2021, YLS launched the Joseph C. Tsai Leadership Program to expand its training of well-rounded leaders. The program was made possible by a transformative gift from Joseph "Joe" Tsai '86, '90 JD and Clara Wu Tsai.
Joining the Tsais to endow the program are Michael Chae '97 JD and Alexa Bator Chae '97 JD, Gene Ludwig '73 JD and Carol Ludwig, and a roster of founding donors.
"The establishment of the Tsai Leadership Program is a watershed for Yale Law School and for Yale," notes President Peter Salovey. "The program is a major investment in teaching and mentoring and comes at a time when the world needs principled leaders more than ever. I am deeply grateful to Joe Tsai and Clara Wu Tsai for their vision and support, and I thank Michael Chae and Alexa Bator Chae, Gene and Carol Ludwig, and everyone who has helped to fund this program."
Building on the law school's storied traditions and sterling reputation, the Tsai Leadership Program is designed to prepare students for traditional and nontraditional legal paths, equipping them to meet society's most pressing challenges.
"The Tsais, Chaes, and Ludwigs chose to make a bold investment in the leaders of tomorrow," says Gerken. "The impact of their vision and generosity will be felt for generations to come as our students go out into the world and use their skills for the greater good."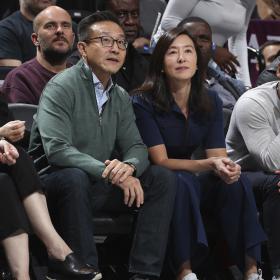 Joseph "Joe" Tsai '86, '90 JD and Clara Wu Tsai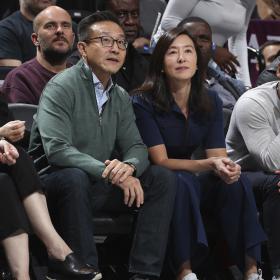 Joseph "Joe" Tsai '86, '90 JD and Clara Wu Tsai
A New Vision for a New Era
The vision behind the Tsai Leadership Program is to prepare every student for their last job, not just their first.
By bringing world-class academics and experts to the fold, the program provides students with the intellectual framework, working competencies, and core literacies necessary to confront the challenges of today and tomorrow. The curriculum offers numeracy courses like accounting, corporate finance, and statistics, alongside ethical decision-making and organizational leadership courses. And throughout the academic year, students will build their management skills through intensives and workshops, meeting with mentors-in-residence to advise them on potential career paths.
The Tsai Leadership Program also taps into one of the school's most important assets: its extraordinary alumni community. By mobilizing more than 13,000 alumni worldwide, spanning every profession, background, and area of expertise, the program aims to connect students—especially those from disadvantaged backgrounds—with alumni who can help bring their professional goals to fruition.
Recalling his own experience at YLS and how it proved vital in his entrepreneurial pursuits, Joe Tsai saw a critical opportunity to help more students identify the limitless career avenues available after law school. "This leadership program introduces a framework for talented, mission-driven students to leave their mark on the world, while also affording space for them to define their own style of leadership," he says. "I am honored to give back to an institution that represents the confluence of experiences that shaped who I am, and to empower others to find their path to a meaningful career."
The Michael S. and Alexa B. Chae Initiative in Private Sector Leadership and the Carol and Gene Ludwig Program in Public Sector Leadership serve as the program's twin pillars. Both build upon the excellence of a YLS education while providing professional support, fellowships, and career development opportunities.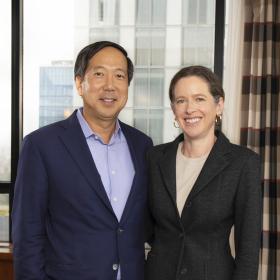 Michael Chae '97 JD and Alexa Bator Chae '97 JD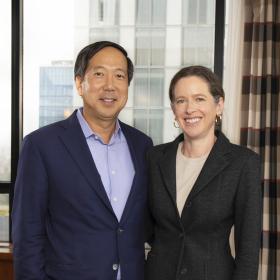 Michael Chae '97 JD and Alexa Bator Chae '97 JD
Leaders for the Private Sector
Knowing firsthand how well YLS prepares aspiring business leaders, the Chaes' gift aims to accelerate the school's resources for students pursuing careers in the private sector. Directed by John Morley '06 JD, the Chae Initiative advises students as they master the intellectual foundations of numeracy and supports their professional development through leadership management programming. They will also learn quantitative reasoning skills and gain insights on management, ethical courage, and entrepreneurial thinking—learning that Michael Chae hopes will be a lifelong venture for participants.
"If you are fortunate, your career journey is long and never-ending, which means you are always learning and growing," says Chae. "A Yale law degree is a versatile thinking and problem- solving degree and represents a crucial foundation for so many business leadership roles. Uncompromising rigor and honesty— intellectual and personal—are the essential qualities demanded of the best leaders."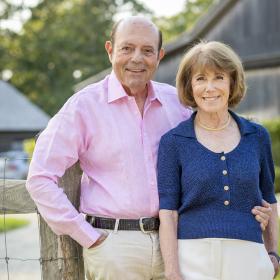 Gene '73 JD and Carol Ludwig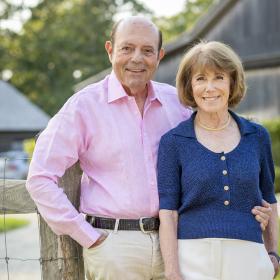 Gene '73 JD and Carol Ludwig
Leaders for the Public Sector
Sharing that sentiment, Gene and Carol Ludwig have set out to empower tomorrow's leaders in the public, government, and nonprofit spheres.
Leading the Ludwig Program are faculty directors Cristina Rodriguez '95, '00 JD, the Leighton Homer Surbeck Professor of Law, and Jacob Hacker '00 PhD, the Stanley B. Resor Professor of Political Science. Rodriguez and Hacker will guide students in translating personal principles into practice and policy, ensuring they have the skills to lead and serve the populations depending on them. Students will also draw inspiration from invited speakers committed to public service and a vibrant democracy.
This spring, the Ludwigs joined another YLS cohort to endow the Hurst Horizon Scholarship Program, erasing tuition for all students with the highest financial needs.
"An excellent education, importantly at YLS, has been the cornerstone that has allowed me to do everything I've done in life, from becoming a lawyer to government service to building businesses and pushing for positive change for low- and moderate-income communities," notes Gene Ludwig. "We have an obligation, particularly as Yale Law grads, who have benefited from so much time, effort, and national resources, to leave the world just a little bit better than we found it."