While advances in artificial intelligence (AI) offer tremendous opportunities for economic development and societal wellbeing, these new tools also present significant threats, including autonomous weaponry, AI-augmented cyberwarfare, and sophisticated disinformation campaigns.
A new, multidisciplinary program at Yale's Jackson School of Global Affairs convenes scholars and policy makers to consider the implications of AI and its role in geopolitical affairs. The Schmidt Program on Artificial Intelligence, Emerging Technologies, and National Power is a signature initiative of Jackson's International Security Studies area. It was made possible by a gift from the Schwab Charitable Fund through the generosity of Eric and Wendy Schmidt, and by recommendation of Schmidt Futures.
The Schmidt Program fosters research and teaching on AI that spans disciplines including computer science, data science, economics, engineering, history, international relations, law, philosophy, physics, and political science.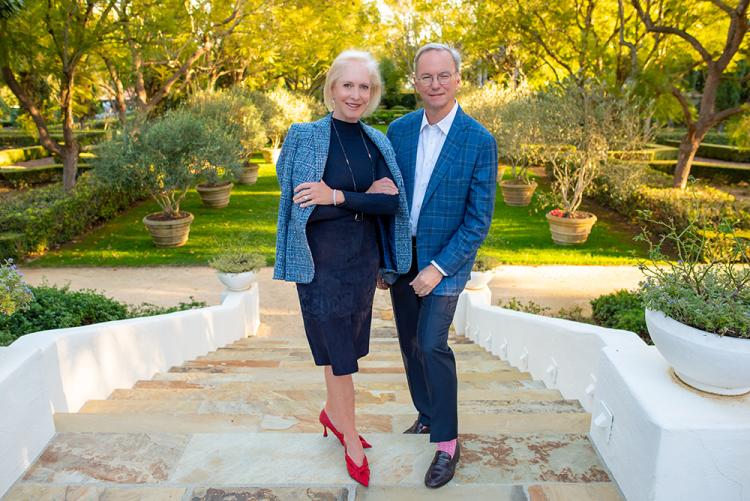 Wendy and Eric Schmidt
Understanding AI's Potential
"The Schmidt Program is an outstanding addition to the Jackson School of Global Affairs," says Jim Levinsohn, inaugural dean of the Jackson School of Global Affairs. "It is essential that our aspiring student leaders understand the risks and benefits associated with artificial intelligence and emerging technologies. We are so grateful to Eric and Wendy Schmidt for their inspirational support, and to the visionary leadership of Schmidt Futures and its chief executive officer Eric Braverman '97, '02 JD, who has also taught classes at Yale since 2012."
The program will bring prominent technologists to campus as Schmidt Program Senior Fellows, offer postdoctoral fellowships to Schmidt Visiting Scholars, support collaborative research and student internships, and develop a robust offering of cyber- and AI-focused lectures, symposia, workshops, and conferences. The Schmidts' gift will also enable the Jackson Institute to hire a senior faculty member with expertise in AI.
"AI is too powerful and too important for us to ignore the fundamental questions that it poses for our society. It is imperative that our global leaders, our universities, and society as a whole begin to find ways to partner with and better understand AI's potential if we are to shape its impact on the course of human history," reflects Eric Schmidt. "Establishing the Schmidt Program at Yale is a first step towards engaging in a multidisciplinary dialogue that examines the complexities of AI and begins to determine what society's rules and limitations will be for these powerful systems and tools."
A Uniquely Interdisciplinary Approach
Ted Wittenstein '04, '12 JD serves as executive director of ISS, and he will teach a flagship course, Artificial Intelligence, Emerging Technologies, and National Power, with several colleagues from other disciplines. The Schmidt Program also meets a vital need for students, Wittenstein notes. "It is important that policy-oriented students have technical fluency," he says. "And many students from computer science and STEM fields have interest in global affairs. This program takes a uniquely interdisciplinary approach to the study of AI, and it bridges the divide between the technology, law, and policy communities across campus."
A thorough examination of AI and its implications requires expertise from many areas. For example, cognitive scientists can illuminate how AI might alter our perceptions. Philosophers examine connections between extremism and expressions of anger. Historians consider whether there are parallels between today and the nuclear age with regard to emerging technologies. The program has already begun engaging broadly with partners across campus to offer programming such as this spring's Cyber Leadership Forum. This series of panel discussions covered topics such as big data and data privacy, disinformation and the future of democracy, and the ethics of AI. The program also participated in Yale Quantum Week.