A man of great adventure and joie de vivre, Donald McCluskey '42E, '59 MEng was devoted to his family, his community, and his alma mater. With a lifelong passion for protecting the environment, McCluskey always had the future of our planet in mind. McCluskey died last year at the age of 101, after an active life that included service in World War II, a career as an engineer, and leading multiple conservation efforts on his beloved Block Island.
"My father loved spending time outdoors and was dedicated to conserving resources for future generations," says McCluskey's daughter, Martha McCluskey '88 JD. "He was a lifetime sailor, skier, and avid gardener who loved locally grown vegetables. The environment was always at the forefront of his mind. Dad was very concerned about fossil fuels. He had a zeal for sustainability and technology that could help us transition toward renewable energy, like wind and solar power."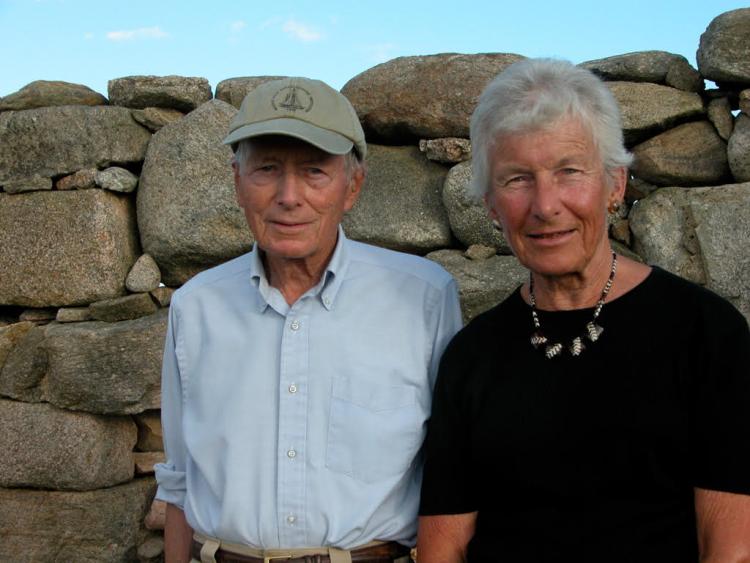 Donald McCluskey '42E, '59 MEng and Dorothy McCluskey '73 MFS
Foresight and Fidelity
McCluskey's generosity to Yale reflected his priorities. He was a loyal supporter of the university; with his wife, Dorothy '73 MFS, he endowed a visiting fellowship at the School of the Environment. He also created several charitable gift annuities (CGAs) to benefit himself and his loved ones. Now, those CGAs have grown to more than double their original amount. They will fund causes important to McCluskey and vital to Yale, with most of his annuities set to help the university reduce its reliance on fossil fuels.
Yale is committed to achieving zero actual carbon emissions by 2050, with an interim goal to reach net zero emissions by 2035.
"Alongside the wide-ranging research on climate solutions happening across the university, Yale must also be a model for sustainability in practice," says President Peter Salovey '86 PhD. "Through the design of our buildings, the way we use energy on campus, and our university policies, we will reach our targets to reduce and then eliminate our campus carbon emissions. We are deeply grateful for Don's foresight and commitment to both Yale and this critical effort."
Reaching Zero-Carbon Emissions
Achieving carbon neutrality on campus requires a combination of approaches. Yale is both reducing energy demand and deploying clean energy technology to lower the carbon intensity of energy used. As a research university, Yale is well positioned to pilot new and emerging strategies. Going forward, as new clean energy technologies prove their viability, the university will launch large-scale efforts to transition away from fossil fuels.
Last year, Yale Facilities initiated a "zero-carbon- ready" standard for all new construction and renovation projects. Buildings that meet this standard will exceed energy code requirements and be able to fulfill all energy demands with clean electricity, renewable thermal energy from heat pumps, and no fossil fuel-based systems.
McCluskey's planned gifts will help Yale implement such new construction methods and sustainable alternatives to fossil fuels.
"It's wonderful to know that my dad's gift will help Yale be a pioneer in sustainability," Martha McCluskey says. "He loved helping Yale and the environment. It is fitting that his legacy will live on at Yale as it works toward creating a healthier planet."
Honoring a Brother
Donald McCluskey set aside some of his CGAs to create the Robert T. McCluskey Professorship at the Yale School of Medicine, in honor of his brother, Robert, a 1944 Yale College graduate and noted physician and educator. An endowed chair such as McCluskey's is the highest form of recognition for a professor's scholarship, teaching, and service. In the competitive environment of medical research, endowed professorships help Yale retain its most outstanding faculty members and attract top talent from around the world.