By the time the COVID-19 pandemic arrived in the US, researchers at the Yale School of Public Health (YSPH) had already pivoted to meet the looming global health crisis head-on.
Associate professor Nathan Grubaugh, who usually works with mosquito-borne pathogens, was using the virus's unique genomic signature to track its spread and identify potential mutations. Research scientist Anne Wyllie was developing a cost-efficient saliva-based COVID test that is now used by 140 labs across the country. Professor Albert Ko, an international expert in epidemiology and infectious disease, would soon be tapped by Connecticut governor Ned Lamont '80 MBA to help guide the state through the pandemic. Assistant professor Krystal Pollitt and YSPH dean Sten Vermund worked with leaders in education and the arts to help keep institutions safe. Many other YSPH experts were making near-daily national media appearances.
In the summer of 2021, President Joe Biden turned to a YSPH study led by Alison Galvani, the Burnett and Stender Families Professor of Epidemiology, to assure the public that the vaccines were effective and safe. The modeling study showed that hundreds of thousands of deaths and more than 1 million hospitalizations had been averted in the US due to COVID-19 vaccines. The most cited JAMA Internal Medicine paper of 2020 came from associate professor Daniel Weinberger for his group's modeling of the true mortality burden from COVID-19.
Recognizing Yale's leadership
The Yale School of Public Health's leadership during the pandemic, and Ko's leadership on behalf of the state of Connecticut in particular, so impressed former PepsiCo CEO Indra Nooyi '80 MPPM that she and her husband, Raj Nooyi, a global supply chain executive, established an endowed professorship at the school.
Ko, who had served with Nooyi as co-chair of Governor Lamont's Reopen Connecticut Advisory Group, has been appointed the inaugural Raj and Indra Nooyi Professor of Public Health.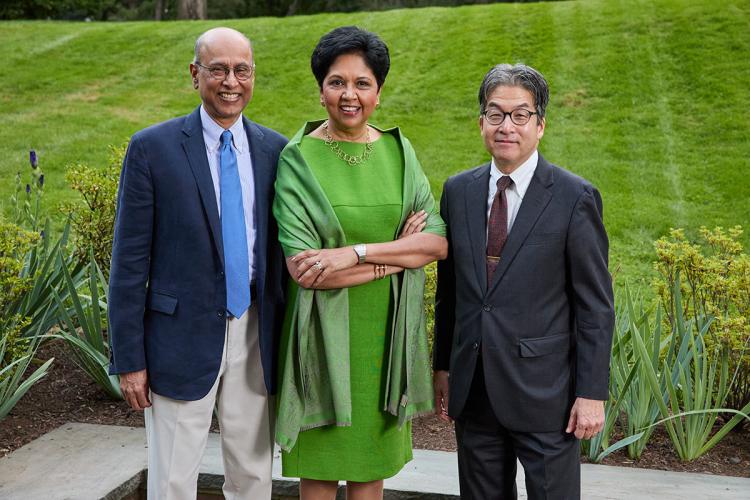 Raj Nooyi, Indra Nooyi '80 MPPM, and Albert Ko
Amplifying potential
With their contribution, the Nooyis aim to recognize and amplify the school's enormous potential by ensuring support for its world-class faculty members.
"The time has come to lay out a bold vision for the Yale School of Public Health," Indra Nooyi says. "Yale can distinguish itself from other schools by being implementation oriented and committed to integrating new technologies to advance and improve public health. This professorship signals our confidence in Yale's ability to define the next century of public health."
"I am sincerely grateful for Indra's and Raj's support and their belief in our school and our faculty members," says Dean Vermund. "Endowed professorships are essential for public health. They help our school attract and retain top talent with resources to support innovation. We are especially pleased to recognize Professor Ko with this honor."
Ko is an infectious disease physician and epidemiologist whose research has yielded critical insights into the health consequences of rapid urbanization and social inequity. In addition to his post as professor and chair of the Department of Epidemiology and Microbial Disease at YSPH, he is a professor at Yale School of Medicine and an attending physician at Yale New Haven Hospital.
Benefiting people worldwide
With an impressive cadre of world-class researchers and scholars, YSPH is active in crucial research areas like biostatistics, disease modeling, environmental health, climate change, and pandemic preparedness. These areas offer numerous opportunities for innovative technological and business collaborations, the Nooyis say. They see their gift as the first step toward a bright future for YSPH.
"A strong public health infrastructure is critical, as we have seen firsthand," notes Raj Nooyi. "Most people don't realize how important public health policies are until something like a pandemic comes. The work coming out of Yale makes a difference and can benefit millions upon millions of people worldwide."