Nestled within the Litchfield Hills lies the unexpected arts enclave of Norfolk, Connecticut. Each summer, artists, musicians, and visitors descend on the picturesque Ellen Battell Stoeckel Estate, home to the Yale Norfolk School of Art and the Norfolk Chamber Music Festival–Yale Summer School of Music. These programs have transformed this quaint town into a world-class destination for the arts.
Educating Artists
Since 1948, Yale Norfolk School of Art has invited undergraduate artists from every corner of the country to participate in an intensive summer residency. Each year, twenty-six rising college seniors are selected from among hundreds of applicants to strengthen their craft in a rigorous environment of learning and growth. The program is a tipping point for many students in their early careers. For six weeks, they live with local families and immerse themselves within the community while studying with Yale School of Art (SOA) faculty, visiting artists, and SOA alumni with a range of perspectives and creative styles. The program's directors, Lisa Sigal '90 MFA and Byron Kim '83, a senior critic at SOA, took the reins in 2019 from its longtime director, Samuel Messer, adjunct professor emeritus at the school.
Studio work takes place in the Art Barn. Now, thanks to generous local residents, alumni, and art collectors who collectively funded the barn's $2.5 million renovation, a transformation of the space is underway.
"This program's success is rooted in the spirit and synergy of our students, alumni, and neighbors in Norfolk," notes Kim. "Yale Norfolk embodies SOA's mission to provide talented artists with hands-on instruction, a nurturing community, and the freedom to explore their ideas in a uniquely stimulating atmosphere. This revitalized space signifies a new era for this exceptional program, and we are so grateful to those who made it possible."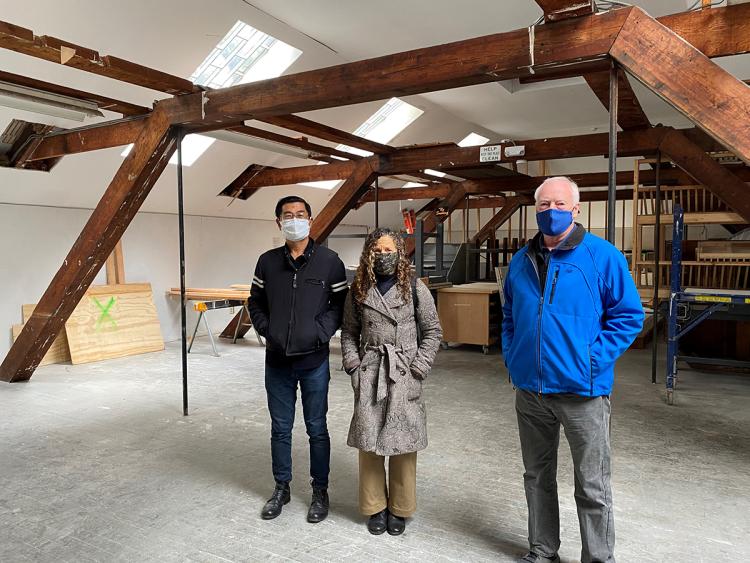 Yale Norfolk School of Art program directors Byron Kim '83 and Lisa Sigal '90 FA (left and center) survey the ongoing renovations of the Art Barn with renovation architect John Martin (right).
New Directions
"At Yale Norfolk, I had the chance to work with and be critiqued by artists in all media," remarks Sadie Cornette Cook '20, a photographer. "Breaking out of medium-specific dialogue pushed me to think critically about what concepts I care about, rather than focusing simply on creating something beautiful. I've never been pushed that hard before."
Sigal and Kim are committed to building a sustainable, equitable arts program so that more young artists like Cornette Cook can make their mark on the world. Central to these efforts are student scholarships and faculty and teaching fellowships. Continued local engagement, such as a themed public speaker series, also helps emphasize inclusivity in new ways, strengthening Yale Norfolk's connection to the community it proudly calls home.
A Fresh Start
Before it was the Art Barn, the 1898 structure was the Stoeckel family's stables. The hayloft was upstairs, the horse stalls to the side, the carriages just opposite, and the cows downstairs. The barn was first converted in 1940 to accommodate music students, and studios were added when Yale Norfolk Art launched eight years later. With minimal changes until now, the space has housed the art program from mid-May through June and served as practice space for the music program in July and August.
Although COVID-19 prevented art students and musicians from gathering this summer, their absence allowed renovations to accelerate. Maintaining its historic charm, the renewed Art Barn will feature beautifully restored, purpose-built space. Extensive renovations include a modified floorplan for increased accessibility, an updated exterior, new studios, improved facilities, and enhanced public spaces for all to enjoy.