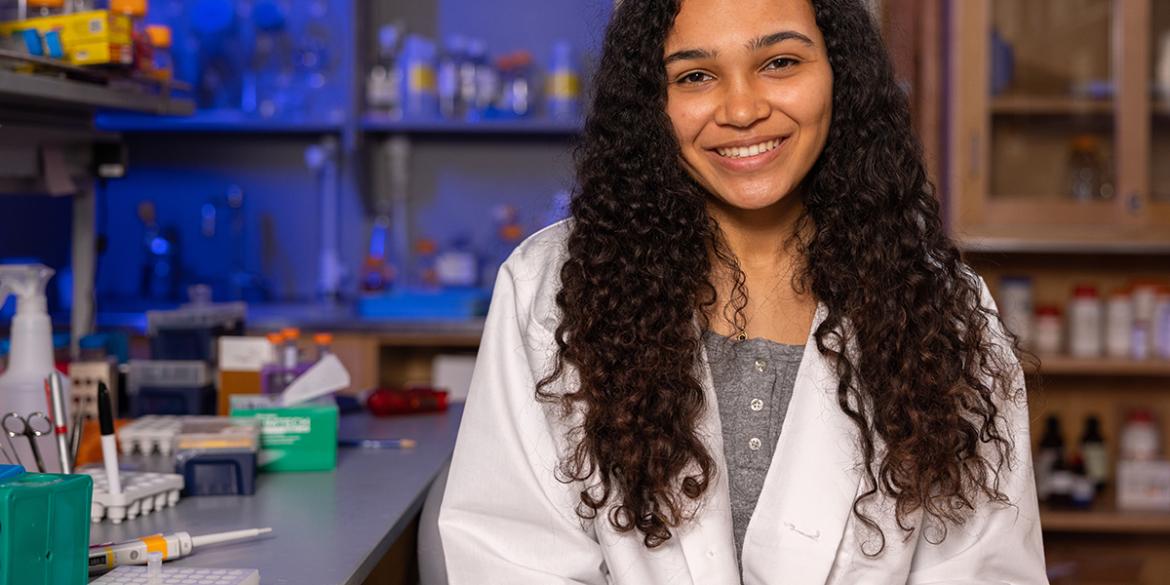 Jaida Morgan '23, Ezra Stiles College, found her future career path when she was in fifth grade. "I became interested in cancer research when my best friend's mom, who was like a second mom to me, passed away from breast cancer very suddenly," she says. "It was my first experience with grieving the loss of someone close to me. I didn't want to have to see other people go through that."
After high school, Jaida made her way to Yale. She was drawn to the research opportunities at the university, particularly the Science, Technology, and Research Scholars (STARS) program, which provides an avenue into those fields for women, first-generation, low-income students, and other underrepresented groups.
"I decided to come to Yale because I knew, for one, that we have a really good cancer center here. I had also learned that through the STARS program, students could be paid for their research," Jaida reflects.
Through STARS, Jaida has worked in two research labs and found a community of peers and mentors. She gained foundational knowledge needed to be comfortable in a lab and deep experience to nourish her interest in medicine. Now a junior, she works as a research assistant to Gloria Huang, professor in the department of obstetrics, gynecology, and reproductive sciences, researching new therapeutic approaches to ovarian cancer.
Jaida is majoring in molecular, cellular, and developmental biology. She co-founded the Black Pre-Health Organization at Yale, which brings together students from the African diaspora to help each other prepare for careers in medicine, research, nursing, and public health. As she builds the foundations for a medical career, she also makes time to volunteer as a tutor for Bridges ESL, an organization that provides free English language lessons to people at Yale and in the New Haven community.
"There is no question that Yale changed my life," Jaida says. "I wouldn't be able to attend Yale or pursue my research if it weren't for financial aid."