Schools across the nation and world were closing. Students were unsettled. Parents were worried for their children, many of whom were thousands of miles away. Steering Yale College through the COVID-19 pandemic would require knowledge of both science and spirit, with an ability to grasp the public health threat of COVID and the anxieties of undergraduates and their families. Fortunately, the college had Marvin Chun—a dean committed to students and passionate about Yale's mission. Chun prioritized safety as he guided Yale College with vision and clarity through the pandemic's uncertainty.
Were his leadership during the pandemic Chun's only accomplishment, he would still have earned his place in Yale's history. Yet Chun, a world-renowned neuroscientist and a Yale parent, did a great deal more. He reshaped undergraduate life, enhanced curricular offerings, helped grow the student body, opened two new residential colleges, and expanded financial aid.
In June 2022, after five years of exemplary service, Chun left the dean's office and returned to full-time teaching and research. Alumni, parents, and friends responded by making gifts in his honor directed toward some of former dean's most dearly held priorities.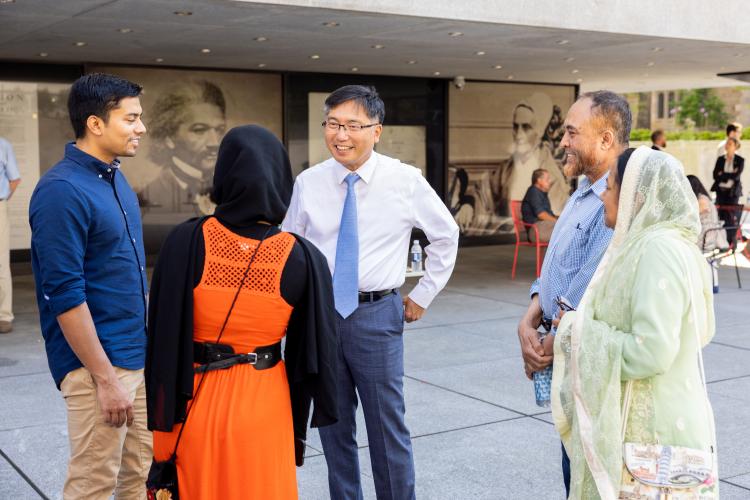 Marvin Chun talks with students and families during commencement festivities in 2022.
Celebrating a legacy 
All told, more than thirty donors contributed over $1.83 million toward endowing two key programs started by Chun and his team: Yale College Community care (YC³) and a new orientation program for all incoming students, now affectionately known as Camp Yale. These permanent funds will offer future Yale College deans a strong foundation to help undergraduates flourish. 
"I am grateful for Marvin's steadfast championing of Yale's educational mission and his commitment to the success of our students," says President Peter Salovey. "As dean, he always put students first. In honoring Marvin and his legacy, our community has helped provide vital initiatives to support the well-being of students for many years to come."
"It is profoundly moving to know that these programs will live on," says Chun. "I extend my sincerest thanks to our donors for their recognition and support of Yale College and its incredible students."
Addressing student mental health 
In response to a surging demand for mental health services among students, Dean Chun partnered with Yale Mental Health and Counseling to develop a solution leveraging the residential college system. The resulting program, Yale College Community Care (YC³), has significantly expanded the mental health and wellness resources available to undergraduates by embedding eight full-time staff across the campus.
YC³ employs four college care clinicians and four community wellness specialists. These licensed clinical social workers, psychologists, and experienced wellness practitioners meet with students individually and in groups, providing support and wellness programming right where students live and learn. 
The Dean Marvin Chun fund for YC³ will help sustain this important resource. 
Welcoming students to campus 
This fall, Yale College introduced Camp Yale, a revamped approach to new student orientation centered on social life in the residential colleges. It aims to help students develop a sense of belonging during their transition to Yale and beyond. Orientation programs were previously cost-prohibitive for many students and caused inequity during the critical early time on campus, as arrival days varied. 
In the new format, all students arrive on a unified move-in day and participate in an expanded slate of programming. Each student chooses a specialized mid-orientation program, such as First-Year Outdoor Orientation Trips (FOOT) or Cultural Connections, that aligns with their interests. Camp Yale ends with arts and athletics weekend, when students can explore extracurricular offerings and find communities. The entire camp Yale experience is free of charge for students. 
The Dean Marvin Chun Fund for Residential Life will help meet the costs of this new orientation structure and additional residential life programming throughout the academic year.