In late September, students from the Yale School of Architecture put the finishing touches on a new house in New Haven's Hill neighborhood. An original design, the building features three stacked apartments with identical floor plans that are rotated, maximizing privacy for the residents. Later this fall, the building will welcome its first tenants—individuals or families who formerly experienced homelessness.
The design and construction of such a house is a milestone for every student in Yale's Master of Architecture program. Through the Jim Vlock First Year Building Project, students gain design practice and engage with the community, learning firsthand how the built environment can help meet societal needs.
The house is the product of an intensive process. Students work in teams to create design proposals. A winning design is chosen by a panel of faculty and community members, and then the whole class works together to build it. Since the program was established in 1967, classes have built community centers, bandstands, and park pavilions, as well as housing. Since 1989, the project has focused on affordable housing in New Haven, providing homes for more than fifty families. The 2019 project was the third developed in collaboration with Columbus House, a New Haven-based homelessness services provider.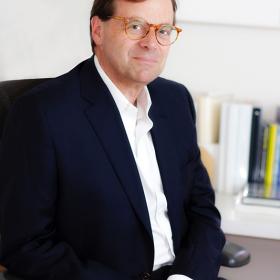 Buzz Yudell '69, '73 M.Arch.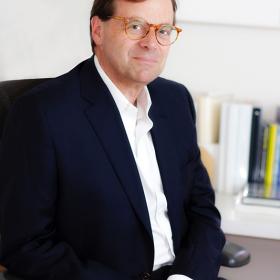 Buzz Yudell '69, '73 M.Arch.
Sustaining a Signature Program
Buzz Yudell '69, '73 M.Arch. is supporting this hallmark program as part of a planned gift to the Yale School of Architecture endowment. A portion of the gift establishes the Charles Moore Fellowship, a multi-month position for a recent graduate of the school who will work alongside faculty members in directing and supervising the building project. Fellows will guide students through the complexities of housing design and construction, including zoning issues and neighborhood relations.
"Over fifty years, the building project has evolved as an integral and distinguishing feature of our curriculum," said Deborah Berke, dean of the Yale School of Architecture. "It is both theoretical and practical. Students grapple with the challenge of affordable construction, even as they master new building practices and technologies. I am grateful to Buzz for a gift that enhances this defining experience."
Honoring a Mentor and Friend
Yudell's endowed fellowship is named for Charles Moore, dean of the school from 1965 to 1970, who founded the Building Project with Kent Bloomer '59, '61 MFA.
"The Building Project was transformative for me and my classmates," said Yudell. "It showed us that architecture could be socially engaged, environmentally conscious, and aesthetically pleasing, goals that were central to Charles. He was a mentor and friend, and I am happy to create these fellowships in his memory."
Yudell is a longtime supporter of the school. His gift will also create scholarships for architecture students and a visiting professorship. In addition, earlier this year Yudell created an endowed a scholarship fund in honor of Bloomer.