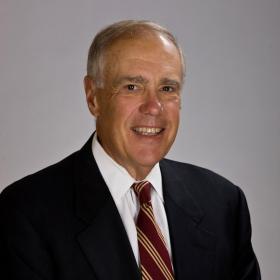 James M. Hoak, Jr. '66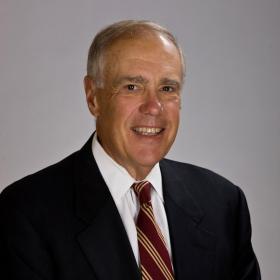 James M. Hoak, Jr. '66
When James M. Hoak, Jr. '66 was choosing a college, he made sure to see each prospective school's golf course. When he laid eyes on Yale's, he knew he had found the right university. Today, Hoak has led an effort to restore the landmark Yale Golf Course and protect it for generations to come.
The course opened in 1926, the design of golf course architects Charles Blair Macdonald and Seth Raynor, each recognized as masters in the field. Set within 700 acres of New England landscape, with rock ledges, ponds, and an array of hazards challenging to professional and amateur players alike, the course is built on a grand scale and perennially rated as the top college course in the country.
Hoak often refers to the course as "a Rembrandt," and, as with all masterpieces, care is sometimes needed to preserve its original artistry. Hoak and his late Yale Golf teammate, Thomas Slater '66, worked with Yale Athletics, originally in a group led by John Beinecke '69, to raise funds for the course's restoration. Now, thanks to the generosity and efforts from fellow alumni and friends, donations have reached a level where work can begin. Gifts will also fund an endowment to ensure the course will be maintained in peak condition for years to come.
Vicky Chun, the Thomas A. Beckett Director of Athletics, notes that Hoak's participation in the fundraising initiative made all the difference. "Jim's reputation within the golf world and within Yale certainly convinced people to come on board," Chun says. "This would not have happened without him. We are so thankful for his leadership."
Scrupulously Faithful
"The goal of the project is not to create something new, but to be scrupulously faithful to the original Macdonald and Raynor vision," Hoak says. "Fortunately, the course's history is extremely well documented and includes a large photo archive."
Golf course architect Gil Hanse will lead the project. "Securing an architect of Hanse's caliber convinced a number of supporters to step forward," Hoak says. Hanse has restored other Macdonald and Raynor courses, including Sleepy Hollow Country Club in Westchester County, New York.
"Yale's golf course is known for its impressive size. Few courses, even newer ones, boast a similar scale with large greens, deep bunkers, and wide, rolling fairways. The significance of the course and the potential that exists within its landscape are truly staggering," says Hanse. "In this restoration, we have the opportunity to reacquaint the world with one of the landmark courses in American golf course architecture."
A Strong Tradition
"Yale is proud to be home to a world-renowned golf course," says President Peter Salovey '86 PhD. "I am so grateful for the generosity of Jim Hoak and other donors in restoring and protecting this treasured part of our university."
The course will continue to welcome the Yale community and will be more accessible to the public through a daily fee structure. Hoak and Yale Athletics staff plan to pitch the course as a venue for major tournaments. Hoak, now living in Dallas, looks forward to playing the course when its restoration is complete. "It's rare to see a historic course like this returned to its original glory," Hoak says. "I'm so happy that the Yale course will provide others with the same experience that its first players had so many years ago."
"From the moment I stepped on campus," says Chun, "alumni from all over the world made it abundantly clear how important the Yale Golf Course is to our teams, the surrounding community, and the world of golf. With the support of Jim and other donors, I am confident we will be able to give a golfing experience worthy of both the course's history and Yale's strong tradition of exceptional golf."