The Yale Law School (YLS) community of today looks quite different than it did even a decade ago. Active outreach, increased student support, and a commitment to expanded access have enabled the school to admit its most diverse classes ever. But while the student body and its needs have evolved, the core mission to educate leaders and encourage public service remains the same.
In the YLS Class of 2023, 51 percent are students of color, while 24 percent are the first in their families to attend professional school. Over 70 percent of YLS students receive financial aid. The school offers assistance ranging from need-based scholarship grants to loan forgiveness for those pursuing lower-paid fields after graduation.
Equally important, YLS continues to provide students with pivotal experiences in organizations that strengthen the common good. Resources to meet students' needs and expand their opportunities are a growing priority.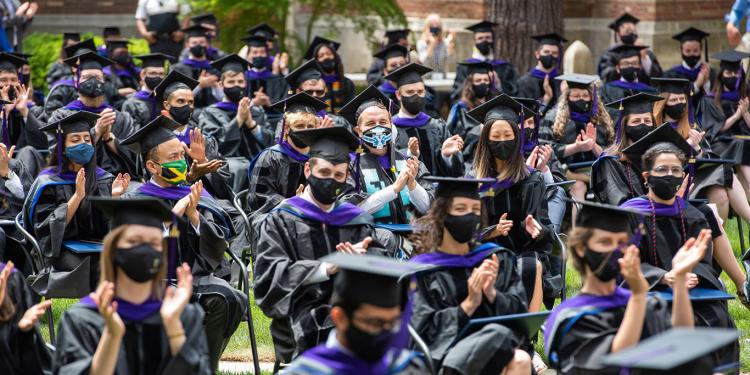 Enhanced opportunities
To support law students, the Varet family, through the Middle Road Foundation, has made generous gifts to YLS in memory of Michael Varet '65 LLB. The family has established two funds: the Michael A. Varet '65 YLS Safety Net Support Fund and the Michael A. Varet '65 Summer Public Interest Fellowship Fund.
"We are profoundly grateful to the Varet family for their gifts to the law school," remarks Dean Heather Gerken. "Although Michael never sought or expected acknowledgement of all that he gave to Yale, we owe him a debt and are honored that his family has chosen to celebrate his legacy in this way."
Peace of mind
Unanticipated expenses can be highly disruptive for students with limited financial resources. Recognizing this, YLS launched the Safety Net in 2019, granting emergency funding for necessities like laptop repair or transportation home during family crises.
Any student can apply for a Safety Net grant, and priority is given to those with the greatest needs. This essential resource ensures that YLS students can continue their work even if an emergency arises.
The Varet family's gift has been especially timely, helping YLS meet students' increased needs throughout the pandemic. The Safety Net has fulfilled dozens of COVID-related funding requests for needs such as housing and relocation, medical care, and childcare. The Varet endowment ensures this kind of support will be there for future generations of students when they need it most.
Giving back
YLS also encourages students to leverage their skills for societal good, and its summer public interest program is one of the most expansive in legal education today. However, because government and nonprofit work tends to be modestly compensated, not every student can afford to pursue opportunities with the causes that need their legal training and talents most.
As climate change accelerates, environmental law and advocacy are vital areas of service. The Varet Fellowship enables four students to devote their summers to working at environmentally focused organizations, such as Earthjustice and the National Resources Defense Council. Receiving up to $8,000 for living expenses, recipients can fully immerse themselves in their organization's mission, gain critical experience, and build their professional networks. Such experience will help position them as leaders in the fight for environmental justice, protecting our planet's most vulnerable populations and places.
Speaking on behalf of her family, Sarah Rosenwald Varet '04 JD recalls her father's deep appreciation for the school and its students: "We could not think of a better way to honor my father—who was completely devoted to Yale Law School—than to make a gift that will both meet the exigent needs of its students, about whom he cared deeply, and support critical public interest work undertaken to address the climate crisis."