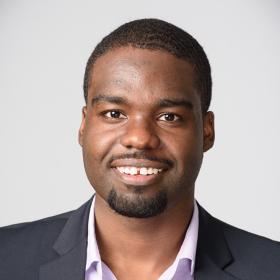 Robert Rock MD '18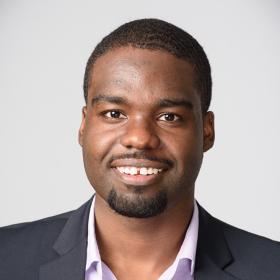 Robert Rock MD '18
Robert Rock MD '18 first realized he wanted to be a doctor when his grandaunt was diagnosed with uterine cancer. She was the matriarch of Rock's family of Haitian immigrants living in Queens, New York. Skeptical of the Western medical system, she hid her pain until it was unbearable, by which point her diagnosis was terminal.  
"People shouldn't die of uterine cancer," Rock says. "It's preventable and treatable if caught early. But catching it early requires good primary care."
Rock's grandaunt decided to forego care and passed away six months after her diagnosis. The family tragedy instilled in him the goal of becoming a doctor who would build long-term relationships with his patients and foster trust in the medical system. This dream brought him to Yale School of Medicine (YSM) and led him to specialize in family medicine. He worked as a primary care physician in the Bronx, and now Rock serves as the clinical director for the Bureau of Bronx Neighborhood Health, where he administers public health interventions to address health disparities.
"Without financial aid, medical school wouldn't have been possible for me. Yale gave me the best financial aid package, and that support also meant I could choose a specialization that was lower-paying but aligned with my passions," Rock says. "I would not have been able to do primary care if I had graduated with more debt. Financial aid gave me the freedom to pursue my dreams."
According to the Association of American Medical Colleges (AAMC), for medical students who graduated with debt, the median medical school debt reported was $200,000. At Yale School of Medicine, the median debt for graduates is about $70,000.
Now, thanks to a gift of $25 million from The Starr Foundation, the school will expand its financial aid program to help ensure that students like Rock can achieve their dreams regardless of their financial circumstances.
"I am deeply grateful for this new contribution from The Starr Foundation," says Yale President Peter Salovey '86 PhD. "Across the university, we have a goal to increase scholarships for students and to reduce their financial burden after graduation. For almost three decades, The Starr Foundation has helped students from all backgrounds attend Yale School of Medicine. This remarkable new gift will enable a further expansion of the support we provide to our medical students."
A Longtime Benefactor
The Starr Foundation and its chairperson, Maurice R. "Hank" Greenberg, are among Yale's most generous benefactors, having made transformative investments to fund scholarships, fellowships and financial aid across the university; greatly expand Yale's international reach through the landmark Yale-China Initiative as well as international exchange and leadership programs; and support significant capital campaigns and programs at Yale.
"The Yale School of Medicine attracts the world's brightest candidates and prepares them for leadership in every area of medicine," says Greenberg. "This will help to lessen any concerns about funding the cost of medical school, so that aspiring doctors can focus instead on research and education to alleviate suffering and promote health for people everywhere."  
Joan E. O'Neill, Yale's vice president for alumni affairs and development, notes that the gift was shaped by Florence Davis, the foundation's long-serving president, who died in May.
"Florence was a role model for anyone who aspires to truly make the world a better place," O'Neill says. "I am so grateful for the part she played in stewarding the deep ties between Yale and The Starr Foundation. Her passion for improving healthcare had a permanent impact on the School of Medicine and the university."

Andi Shahu '18 MD

Andi Shahu '18 MD
Making Education Accessible
The Starr Foundation's gift helps YSM deliver on its commitment to being affordable for every admitted student, regardless of their financial needs.
"Financial aid opens doors for people who do not come from families with the means to support them through school," says Andi Shahu '18 MD, a clinical fellow in cardiovascular medicine at the Yale School of Medicine/Yale New Haven Hospital.
By ensuring a Yale education is accessible to students of all backgrounds, the school fosters a student body that is diverse across every dimension. A pipeline of medical providers who represent various socioeconomic, racial, and ethnic backgrounds leads to a system in which more patients can see doctors who better identify with them, communicate with them, and meet their needs.   
Shahu adds, "Both the medical community and society benefit when doctors reflect the diverse populations they serve."
Freedom to Pursue Passions  
While aspiring doctors begin medical school with dreams of entering many different specialties, some abandon their passions for more lucrative options because of student loan debt. According to a study in the Journal of Medical Education, nearly one-third of medical students who aim to pursue primary care as first-year students end up switching to higher paying specialties, citing concerns about paying off their student debt. Meanwhile, the United States faces a dire shortage of primary care physicians; according to the AAMC, the country will be short between 17,800 and 48,000 primary care physicians in ten years.
"Thanks to this expanded financial aid, physicians graduating from YSM with demonstrated need will no longer have to choose between paying off their debt and pursuing specialties or interests of particular meaning to them," says Jessica Illuzzi, YSM's deputy dean for education. "Our graduates go on to meet vital needs in the health care system. When debt is not a concern, they can make career decisions based on the things that inspire them and drew them to medicine rather than financial considerations."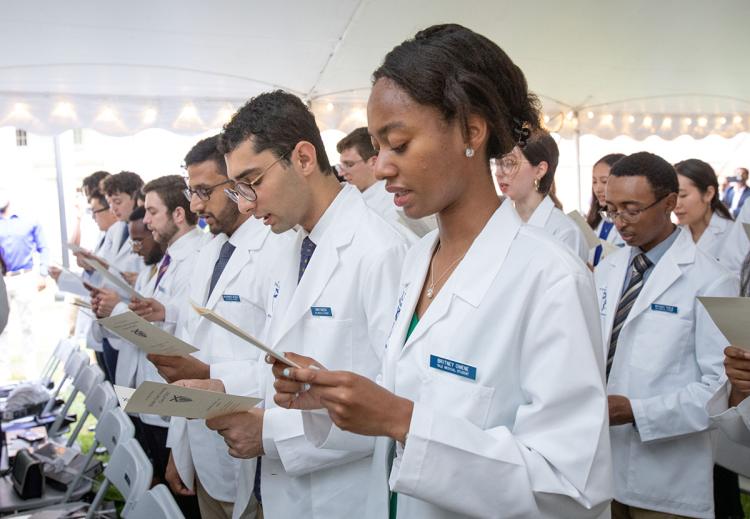 With the White Coat Ceremony on August 7, the Yale School of Medicine welcomed the MD Class of 2027.
Toward a Debt-Free Education
Last year, YSM announced its plans to become debt free, which means covering the full demonstrated financial need of every student. In service of that goal, the school aims to raise $100 million in new endowment for scholarships.
With funding from The Starr Foundation's gift, starting with the 2023–2024 academic year, medical students with demonstrated need will not be expected to take out more than $10,000 in loans per year.
"Anyone admitted to the Yale School of Medicine has demonstrated that they have what it takes to be an excellent physician, and this gift brings us closer to ensuring that we attract the best, regardless of need," says Nancy J. Brown '81, the Jean and David W. Wallace Dean of Medicine. "Thanks to the Starr Foundation, we will be able to give the most deserving students the opportunity to become leaders in medicine and give back by improving health."
The $25 million gift from The Starr Foundation will be amplified through a fundraising challenge within the For Humanity campaign. In acknowledgement of the endowed gift, the university will contribute $25 million to the medical school's general endowment. Similar incentives for endowed gifts exist at the Yale School of Nursing and Yale School of Public Health.
A University-Wide Commitment
Within the $7 billion For Humanity campaign, Yale has set a goal to raise $1.2 billion for scholarships and fellowships across the university. Since the launch of the campaign in fall 2021, alumni, parents, and friends have given more than $700 million toward that goal.
"More than ever before, we are welcoming excellent students from every walk of life and ensuring that they have opportunities to thrive once they are on campus," Salovey says. "Thanks to the generosity of our supporters, For Humanity allows us to expand our commitment to educating the most promising students, from all socioeconomic backgrounds, who will make great contributions to our nation and to the world."