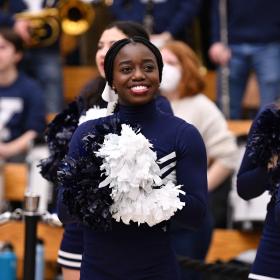 Nathania Nartey MY '25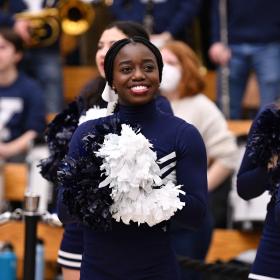 Nathania Nartey MY '25
Nathania Nartey MY '25 cannot remember a time before she dreamed of becoming a doctor. As a toddler, she would wander around her house with a toy stethoscope, playing doctor as she tried to listen to her family members' heartbeats.
This early interest in medicine evolved into a vocation as Nathania got older and began to learn about racial disparities in health outcomes, particularly those related to maternal mortality. According to the Centers for Disease Control, Black women are three times more likely to die from a pregnancy-related cause than white women.
"Reading those statistics made me realize how important it was to have people of all backgrounds in medicine," Nathania says. "It became clear to me that representation can be a matter of life and death."
Nathania's passion for addressing systemic inequities in health care led her to shadow a family medicine doctor last summer, where she was able to learn firsthand about the value of representation.
"One of the patients I observed was an older Black man," Nathania says. "He looked at me and seemed a little surprised that I was there. I explained what I was doing and what my goals were, and what he said has really stuck with me: 'Your people are rooting for you.'"  
Part of why Nathania feels so passionate about representation is the impact it can have on patient care.
"When a team of doctors is trying to diagnose a puzzling ailment, having a Black perspective can shed light on cultural nuances that might affect symptoms," Nathania says. "The more Black women there are in the medical field, the more comprehensive and improved care for Black women's health will become."
Nathania came to Yale to pursue the education needed to prepare her for medical school. But beyond those academic pursuits, she has found community in cheerleading, a passion of hers for more than a decade.
"Cheer has been a constant in my life," says Nathania, who is now a co-captain of the team. "Cheer has given me a tight-knit community of individuals who serve as role models and help me get the most out of my time at Yale. I felt at home the moment I joined the team."  
This sense of belonging extends to her involvement in clubs like the Black Pre-Health Association, where fellow aspiring physicians support one another through college.
"Being part of these extracurricular groups on campus is a constant reminder of the immense diversity and talent that Yale holds," Nathania says. "I feel so privileged to be part of such a vibrant community."
Nathania knows that achieving these dreams might not have been possible without financial aid.
"I've always been open about my big dreams, but a part of me wondered if they could ever come to fruition because of how expensive college can be," Nathania says. "Receiving my financial aid package and realizing that finances wouldn't impede my education for the next four years was a relief, and such a humbling moment. I finally knew that the dreams I'd had since I was a child could become reality."