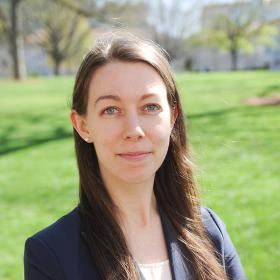 Kaylyn Jackson Schiff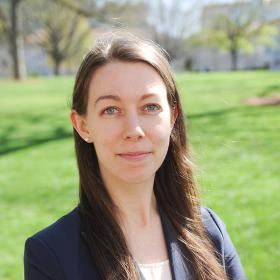 Kaylyn Jackson Schiff
"We've got more ways to get in touch with each other than ever before," says Kaylyn Jackson Schiff. "I'm studying how these new methods affect Americans' engagement with their government."
Schiff is currently a postdoctoral associate at the Democratic Innovations program, part of the Institution for Social and Policy Studies (ISPS) at Yale. On leave for the year from Purdue University, where she teaches political science, Schiff is using her time at Yale to investigate how communication methods influence interactions between citizens and governments.
After completing her PhD at Emory University, Schiff wanted to continue work started in her dissertation. She knew, however, that starting an ambitious project would be difficult, especially as a new professor.
"Yale is giving me what I need to do this work and expand upon some of the concepts that are foundational to my research," Schiff says. "ISPS is the perfect home for this, with its rich interdisciplinary history, collaborative ethos, and faculty expertise. It's amazing to have Democratic Innovations at Yale and ISPS, where this kind of cross-boundary work can flourish."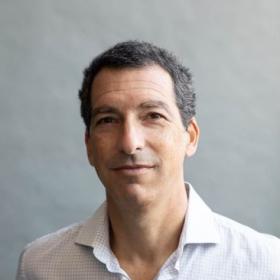 Mark Gorton '88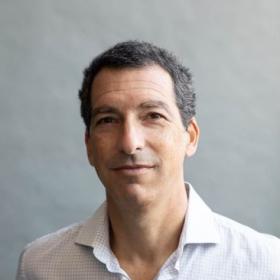 Mark Gorton '88
Imagining a Stronger Future
For fifty-four years, ISPS has stimulated interdisciplinary collaboration across Yale to improve research methods, explore foundational theoretical issues, and apply research to reshape our world. Last year, building on a gift from Mark Gorton '88, ISPS launched Democratic Innovations, a program rethinking what is possible for our democratic institutions.
Democratic Innovations brings together social scientists to gain insights on government policy and decision-making. The program explores making political institutions more efficient, elevating fact over misinformation, and more. In addition to Schiff, the program's first year also brought to campus Michael Pomirchy, whose work on accountability in American politics explores how elections can improve future representation at subnational levels.
"I am pleased to support the Democratic Innovations program and its work to strengthen our political systems," Gorton says. "Yale is a great place to foster the next generation of ideas that can help our government and society work better in the future."
"Mark Gorton's generosity helps us do exciting things," says Alan Gerber '86, Sterling Professor of Political Science and director of ISPS. "Through the Democratic Innovations program, we seek to understand how democracy works and why it fails to achieve its potential. We aim to identify and test new ideas for improving the quality of democratic representation and governance. Through projects like Kaylyn's, we can both investigate fundamental questions about American democracy and design a stronger future."
Measuring Results
To better understand democracy in action, Schiff is conducting a study in partnership with advocacy groups focused on biking and active transportation. Cyclists send messages about observable, actionable policy items to elected officials through various platforms, including letters, phone calls, emails, and tweets. Her project examines how different methods of contact influence benchmarks like bill introductions, voting behavior, and public service projects. Some messages will rely on facts and statistics while others will be more emotional and story driven. She will also track the impact these messages have on the senders themselves. Will communicating with elected officials increase citizen satisfaction, political self-efficacy, and trust in government?
"At the end, we'll have a better idea of what works to create change and make a difference for issues that matter in people's day-to-day lives," Schiff says. "The support I receive through the Democratic Innovations program has enabled me to do so much, like hire undergraduates to serve as research assistants and widen the scope of the project. It means a great deal to have the opportunity to embark on a large-scale study of advocacy campaigns in action across several states. This work will help us better understand the effectiveness of our everyday political communication."