On a crisp October Saturday, with pomp and good cheer, the university celebrated a historic milestone: the dedication of the Jackson School of Global Affairs, Yale's first new professional school in more than forty-five years.
The school grew out of the Jackson Institute for Global Affairs, which was founded in 2010 with a transformative gift from John W. Jackson '67 and Susan G. Jackson. For more than a decade, the institute has brought together a talented, passionate community of scholars, students, and practitioners at the upper echelons of policy making and leadership. Through its graduate programs and the undergraduate major in global affairs, it has educated globally engaged citizens and leaders. Now a full-fledged professional school, Jackson continues that work while also taking on a new research mission. The school opened on July 1 and welcomed its first students this fall.
 
A solid foundation for scholarship
The evolution from institute to school was made possible by additional support from the Jacksons along with significant contributions from other Yale alumni, friends, and parents. Beginning in July 2018, Yale appealed to the institute's most generous benefactors to help build an endowment that would establish a school on solid and permanent footings. In all, 157 donors from the US and across the globe contributed over $200 million.
"Launching the Jackson School was an ambitious undertaking," says President Peter Salovey '86 PhD. "The Yale community responded with great generosity, and I am grateful to everyone who helped us realize this goal. Thanks to you, the Jackson School will bring together eminent faculty members and practitioners to study the roots of war and peace, the most effective ways of encouraging economic development, the effects of environmental change, and the spread of disease and health inequities worldwide. This work, which is essential to our future, exemplifies Yale's commitment to expand knowledge and understanding and produce the leaders we need to meet global challenges."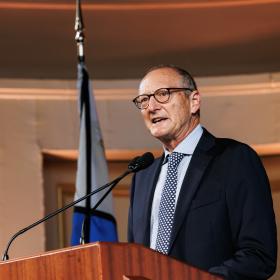 James Levinsohn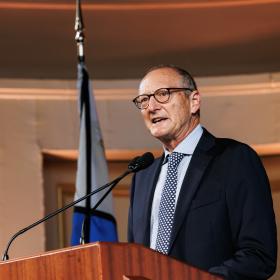 James Levinsohn
Permanent funds for core priorities
James Levinsohn, the economist and educator who was the institute's director and now continues as the school's inaugural dean, notes that Jackson's supporters have contributed strategically, funding students and faculty as well as signature programs and initiatives.
A number of donors established endowed graduate student fellowships, which have enabled the school to offer full tuition support to all of this year's incoming students. In addition, many students receive additional, merit-based stipends for associated costs and living expenses, and the school looks to expand this support. This funding is essential for Jackson's students, who represent an array of career backgrounds, including activists, artists, data scientists, and soldiers. Fellowships and stipends help the school build a diverse community and compete for the most talented students. And, without significant debt from educational loans, students have flexibility to choose careers in more modestly compensated government or policy fields.
"Thanks to gifts for graduate student fellowships, Jackson can attract the very best students and help them fulfill their great potential as leaders who will create a better world," says Levinsohn. "Each year we admit a carefully selected group of top students from around the world. We must be affordable for every admitted student, so they can choose Yale without concern for how they're going to pay for it."
Building a permanent faculty is among the new school's top priorities. By creating endowed professorship funds, donors have aided the school in hiring tenure-track faculty members, each holding a dual appointment at Jackson and another area of Yale, such as the Faculty of Arts and Sciences, the School of the Environment, or the School of Management. This model fosters strong connections between Jackson and other parts of the university, and it ensures a multidisciplinary, deeply collaborative faculty. With four new faculty hires this year and others already at Yale joining the school's roster, Jackson's tenure-track faculty has grown to fifteen. The school plans to add three to four faculty members per year over the next few years until it achieves a core of roughly thirty.
"We aim to hire the best scholars in the world," says Levinsohn. "Endowed chairs signal Yale's investment in faculty members and their specific fields of research and teaching, and they are essential in helping us build and retain a world-class faculty."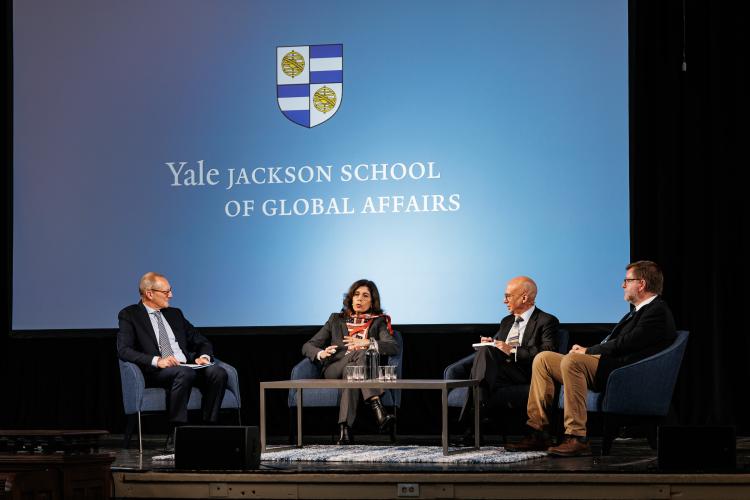 In a panel discussion, an interdisciplinary lineup of Jackson School professors discuss threats to democracy. Pictured are economist Penny Goldberg (second from left), political scientist Ian Shapiro '83 PhD, '87 JD, and historian Arne Westad. Jackson School Dean James Levinsohn (left), an economist, moderated the conversation.
Alongside Jackson's tenured faculty members, who bring academic perspectives into the classroom, senior fellows contribute deep practical expertise. The Senior Fellows Program is unique to Jackson and sets it apart from its peers. Senior fellows are practitioners who are embedded in the Jackson community, teaching full courses and contributing perspectives earned through experience in real-world policymaking. Donor support for senior fellowships has enabled the school to have on its teaching roster experts such as Susan Biniaz '80, a lead negotiator for the Paris Agreement on climate change, and Ernesto Zedillo '81 PhD, former president of Mexico.
Levinsohn likens the program to a law school that offers classes taught by lawyers, or a medical school where doctors serve as instructors.
"As a policy school, we need policy practitioners teaching our students. Their perspectives are a complement to those of traditional faculty members," he says. "And, as short-term appointments, senior fellowships allow us to pivot as global issues develop and evolve. Through this program, we can bring in people with experience that is directly and immediately relevant. It also helps ensure that there are diverse and opposing viewpoints represented among our instructors."
Beyond supporting the school's students and instructors, donors contributed generously with endowment gifts to other purposes, including teaching and research on policy issues of global importance, such as climate change and artificial intelligence. Many made gifts to the school's unrestricted endowment, ensuring that Levinsohn and future deans have flexible funding to use for emerging priorities.
 
A rare opportunity
Looking back on the process of creating the school, Levinsohn reflects on the excitement of building something new—and the generosity of those who made it happen.
"It's not often that one gets to open a new school at a university of Yale's caliber. This was made possible by the tireless efforts and enthusiasm of our faculty members, staff, and donors," he says. "I am so grateful for their support, which has allowed me to enjoy the honor of leading Jackson into this new era."
Read more about the school's day-long dedication celebration on October 15.