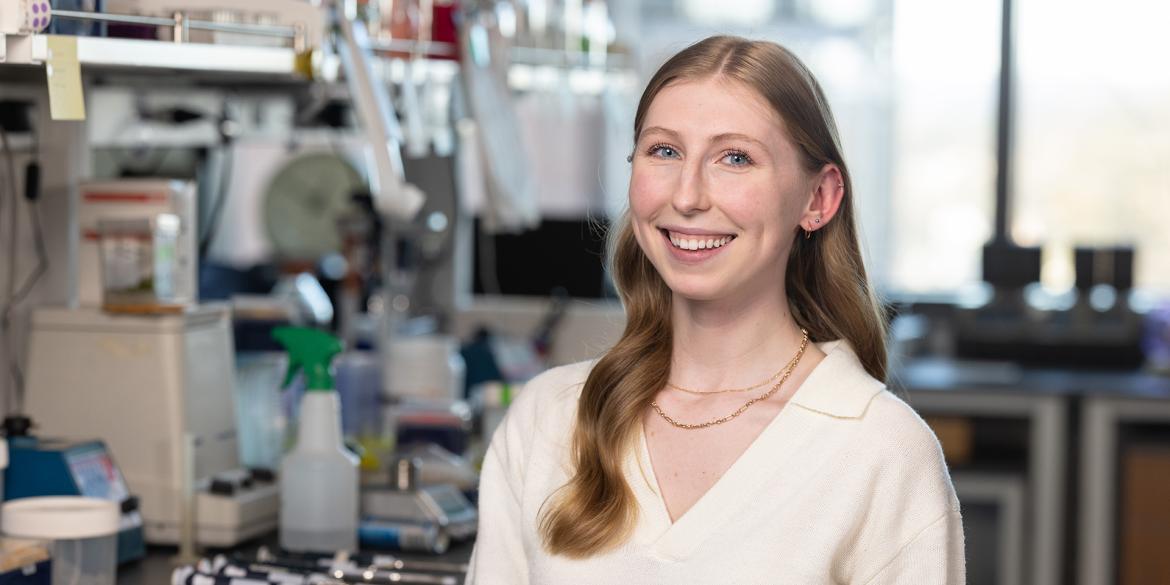 Long before she considered herself a plant scientist, Anaa Andriyash '26 PhD spent childhood summers on her family's farm in eastern Ukraine, helping her mother in the garden and experimenting with leftover plant seeds.
Now a doctoral student in molecular, cellular, and developmental biology at Yale, Anaa runs experiments with plants year-round in the lab of Dr. Vivian Irish. Her research focuses on the formation of plant organs—leaves, stems, and flowers—and cell-to-cell interactions during a plant's growth cycles. "Understanding the molecular processes in plant development has enormous implications for agriculture," Anaa says. "In the future, this research can inform scientific strategies for sustaining the world's food supply."
After majoring in biology and biochemistry at the University of New Mexico, Anaa chose to pursue her PhD at Yale because of its commitment to excellence in research and teaching. "I feel like I am in an environment that supports my success as a scientist," she says.
"Not only are there world-class faculty and top-tier mentorship at Yale, but we are afforded state of the art facilities and technology that really help to promote groundbreaking research."
Outside of the lab and greenhouses, Anaa spends time sharpening her skills as a science communicator and spreading the word about the wonders of plant biology through short, informative videos. Whether she's producing a montage of a day in the lab or explaining concepts from molecular biology with real-world examples, her goal for this outreach is to make science more accessible. "Like many people, I didn't always know that a career in science is an option, let alone that it can be fun and rewarding. Now I know first-hand that science can be for everyone."