Carol Roberts '81 played field hockey and softball for the Bulldogs when women's sports at Yale were barely ten years old. Her experience as a Division I athlete, which included two Ivy League championships, was life-changing. "Playing for Yale helped to set the direction for the rest of my life," said Roberts. "As an athlete, you were always striving to do your best with people you care about. It's an ethos that has stayed with me personally and professionally."
Following graduation, Roberts joined International Paper, where she serves as a senior vice president. She is active, too, as a member of the Field Hockey Association board, and in 2009, she received the Yale Athletics George H.W. Bush Lifetime of Leadership Award. But for inspiration, she said, she continues to look to today's athletes.
"When I look at Yale today, I see D-I athletes who are training and also focusing on academics. Yale is growing the next generation of leaders, and I am excited by the opportunity to contribute to their experience," she said.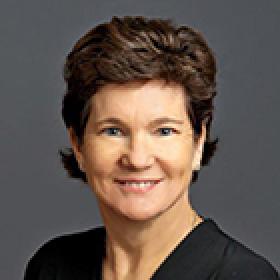 Carol Roberts '81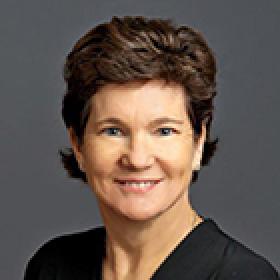 Carol Roberts '81
Funding a home for women's sports
Eager to give something back, Roberts looked for a way to have a lasting impact on Yale's field hockey and softball programs. With both teams based in Smilow Field Center, she knew that athletes, coaches, and alumni all dreamed of their own field house. "The playing fields for field hockey and softball are beautiful, but they are a distance from Smilow, which poses a challenge for athletes and fans," she said. "A new and closer field house will be great for the program, for the women, and for Yale." Roberts decided to launch the project with a lead gift of $3 million—more than half of the $5.5 million funding goal. And as other alumni and friends step forward to contribute, the university hopes to break ground this summer.
Nancy Cahill '79, who played softball and swam for Yale, made a gift to name the training room. "We know that the field house promises to elevate our field hockey and softball programs by improving conditions for athletes and raising the visibility of our teams," she said. "Our fans will appreciate the enhancement to their viewing experience. I am so pleased to join Carol in this project. This is something our athletes truly deserve."
A better experience for fans and athletes
The Carol Roberts Field House will be located between Johnson Field, which serves field hockey, and William O. DeWitt '63 Family Field, home of Yale softball. Architects designed the building to complement the landscape, with straight lines and right angles for the wing closest to Johnson Field, and a graceful curve that echoes the outfield's sweep for the softball-facing wing.
A plaza and atrium will greet visitors. Fans will have access to an observation deck, and glass will enclose a rooftop event space.
Each team will have a spacious locker room and share a training room. Coaches will have offices, plus their own locker room. A flexible-use space, equipped for video conferencing, will serve as a visiting team's locker room. There will be several storage rooms, a laundry room, and a ticketing office that will double as a hub for video production.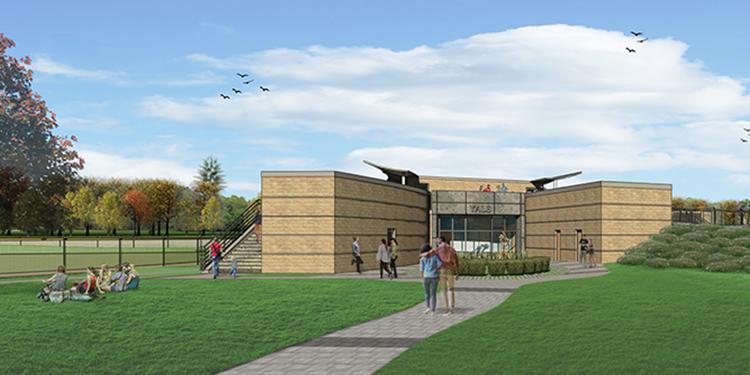 An architect's rendering of the Carol Roberts Field House. A plaza opens before the front door. At left, stairs lead to the observation deck.
A competitive edge
"The Carol Roberts Field House will be a beautiful facility," said Beckett. "We are extremely impressed that the proud women of Yale Athletics have led the way for the development of this project and grateful to everyone who has joined in making it a reality. It will be a wonderful addition to the experience of our student-athletes, alumni, families, and fans."