In the fight against climate change, Yale scientists say there is no time to waste.
And in the two years since its opening, the Yale Center for Natural Carbon Capture has been busy, funding groundbreaking studies, hiring best-in-class researchers, and planning renovations for its future home.
The center was launched in 2021 with a gift from the FedEx Corporation. Contributions from Southwest Airlines and the Boeing Company have also helped to advance its work. The center is part of the university's Planetary Solutions Project, a campus-wide initiative designed to address complex environmental crises such as climate change and biodiversity loss.
"Climate change is a defining issue of our time," says Scott Strobel, provost and Henry Ford II Professor of Molecular Biophysics & Biochemistry. "The vast challenges it poses can only be addressed through innovative, multidisciplinary collaboration. We are fortunate to have deep expertise in many of the relevant fields at Yale, and we are grateful that FedEx, along with Southwest Airlines and the Boeing Company, are helping amplify the scale and impact of this work."  
The center has already made remarkable progress in its mission to advance scientific research for natural solutions to mitigate climate change. With the leadership of co-directors David Bercovici and Liza Comita, the center has begun establishing the programs, administrative support structures, and institutional frameworks needed to identify socially, economically, and environmentally sustainable strategies for natural carbon capture.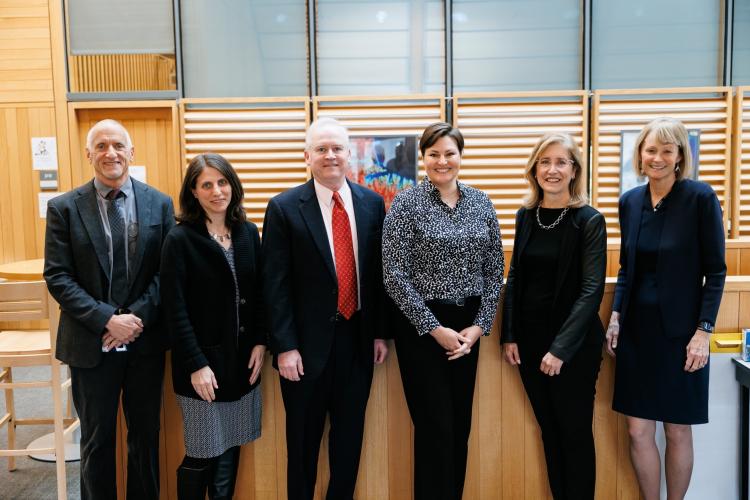 Left to right: Dave Bercovici, Liza Comita, Mitch Jackson (FedEx), Stacy Malphurs (Southwest), Sheila Remes (Boeing), Indy Burke, the Carl W. Knobloch, Jr. Dean of the Yale School of the Environment
A Critical Mission
"Dramatically and rapidly decreasing greenhouse gas emissions is a necessary response to the climate crisis. But to stave off a rise in global average temperatures that would risk the worst consequences of climate change, we must take the additional step of removing some CO2 from the atmosphere," says Comita, who is also a professor of tropical forest ecology at the Yale School of the Environment. "There are a variety of nature-based solutions that can help achieve that goal, while offering co-benefits such as conserving biodiversity, boosting agricultural productivity, and decreasing ocean acidity." 
To capture and sequester carbon at a massive scale, Yale researchers aim to work with the planet's largest carbon cycles in forests, rocks, and oceans. By removing carbon from the atmosphere and locking it away in natural carbon systems, Yale scientists hope to mitigate the effects of climate change while also improving the health of forest, soils, wetlands, and coral reefs.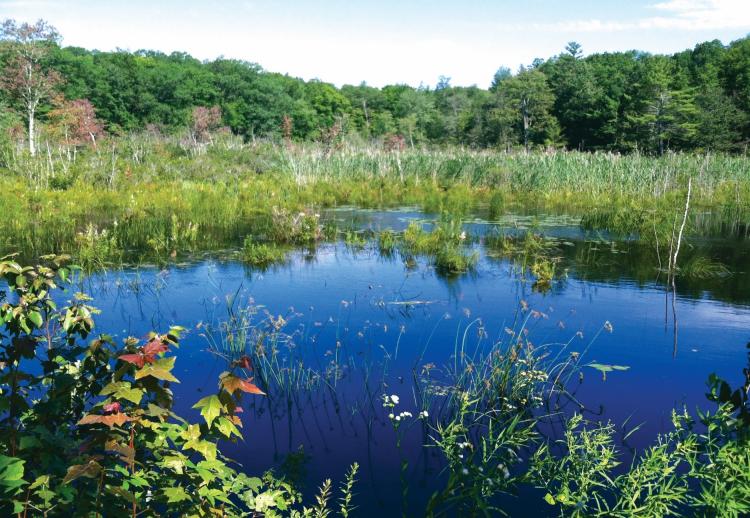 A managed wetland at Yale-Myers Forest includes cattail and sedge groupings, whose minimal drainage and slow decomposition makes them ideal carbon sinks.
Supporting and Sharing New Science
Over the last two years, the center has dispersed fast-track funding to Yale University scientists, fostering novel research ideas and providing critical support for new scientific studies. The first two rounds of fast-track funding have supported twenty-one different research projects with grants totaling over $7 million combined.
"We have supported research that can be implemented for immediate impact over the coming years, particularly related to forest and coastal ecosystems," says Bercovici, who is also the Frederick William Beinecke Professor of Earth & Planetary Sciences. "But we are also looking at processes with even larger capacities to store carbon for centuries to come, like capture in rocks, oceans, and industrial processes. All of these strategies will be essential to hitting the negative emissions targets needed to avoid potentially catastrophic future outcomes."  
The center has also already held multiple events to disseminate knowledge gathered by Yale scientists. A series of seminars in 2022 showcased fifteen experts in the field of natural climate solutions and carbon capture in talks that were open to the entire Yale community, and the first annual Yale Center for Natural Carbon Capture Spring Symposium was held last May.
At the center's corporate roundtable meetings, Yale faculty engage directly with corporate leaders to discuss ongoing research and develop a deeper understanding of how best to share educational and informational materials for corporate audiences. The center also provides funding for the Yale Environmental Leadership and Training Initiative, which focuses on capacity building and outreach through online and in-person courses designed to empower people from a wide range of sectors to implement nature-based solutions, particularly in tropical forest landscapes.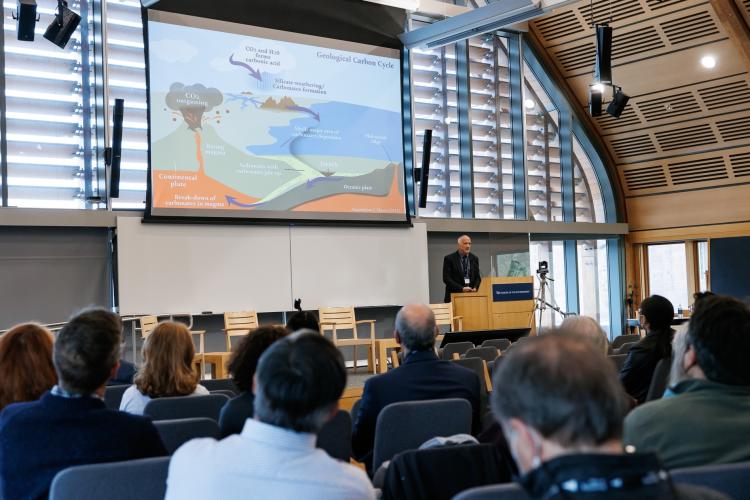 Dave Bercovici presenting on the global carbon cycle during the Yale Center for Natural Carbon Capture's Spring Symposium
Attracting the Best and Brightest
Launching the center has also meant staffing up, filling four new endowed faculty positions and developing a postdoctoral fellowship program.
New hires will contribute to the scientific discoveries generated at the center. Sparkle Malone, an assistant professor of ecosystem carbon capture at Yale School of the Environment, joined the center in September, bringing her expertise in carbon dynamics in coastal wetland ecosystems.
Paulo Brando, an associate professor of ecosystem capture, is an internationally recognized expert on tropical ecosystems who joined the center in December. His research explores the causes of deforestation and forest degradation in the Amazon and the associated consequences for climate.
Matt Eisaman, an incoming associate professor in the Department of Earth and Planetary Sciences, studies carbon removal through ocean alkalinity enhancement, which leverages the oceans massive capacity for capturing and storing carbon while improving coral reef health. Eric Slessarev, who studies the enormous potential for subsurface carbon storage in soil in terrestrial ecosystems, will join the Department of Ecology and Evolutionary Biology as an assistant professor. 
The flagship postdoctoral fellowship program supports talented early-career scientific researchers from around the globe working at the forefront of climate solutions. The program launched in September 2022 and will award up to three fellowships each year, each for a two-year term.
Building for Collaboration 
The center is currently housed at the Kline Geology Laboratories, home of the Department of Earth and Planetary Sciences, but Osborn Memorial Laboratory will be its permanent home, with a move planned for 2026. The center's location at the southern end of Science Hill will enable collaboration with relevant units like the School of Engineering & Applied Science, Yale Institute for Biospheric Studies, and Yale Ventures.
"Solutions-focused research is inherently interdisciplinary," Comita says. "Without cross-departmental collaboration, we would never be able to make progress on such all-encompassing issues."  
"Witnessing the collective efforts of the Yale community to address the critical issue of climate change has been nothing less than inspiring," says Bercovici. "Undertaking this journey over the past two years has only bolstered my confidence in what we can accomplish."